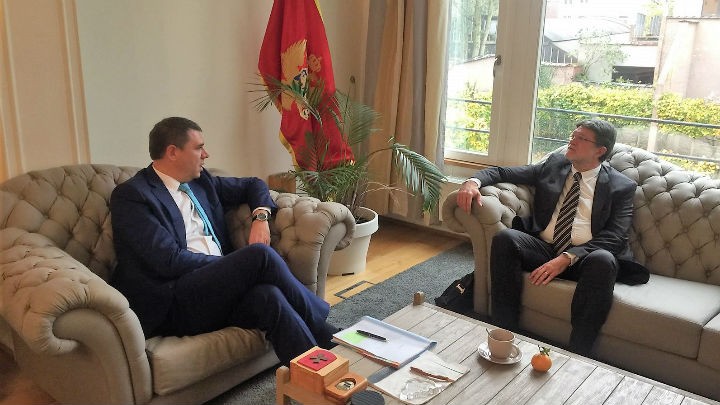 The European Parliament supports the enlargement policy and Montenegro should continue on the right path of implementing reforms, in order to become the next member of the EU, Chief Negotiator Aleksandar Drljević and European Parliament Rapporteur for Montenegro Tonino Picula noted.
During his visit to Brussels, the Chief Negotiator met with the new EP Rapporteur for Montenegro, whom he congratulated on his new post, while expressing that he expects his European colleagues to report in detail about Montenegro's successful path towards the EU.
Chief Negotiator Drljević conveyed his firm commitment for Montenegro to acquire the EU membership, recalling that the Government and all institutions involved in the negotiation process are persistent in order to provide Montenegro with a place in the EU.
"We are working hard to keep Montenegro moving towards the EU. In the upcoming period we expect a positive response from the European Commission and the member states regarding the efforts we have been making and which will be reflected in the opening of Chapter 8 – Competition and the closing of the negotiation chapter, in which we were able to achieve internal readiness", the Chief Negotiator stated.
The new EP Rapporteur for Montenegro welcomed the fact that Montenegro had the fastest pace amongst all the candidate countries in its negotiations with the EU. He emphasized that during his term of office he will commit himself to the strengthening of relations between Montenegro and the EU, while he would also advocate in the European Parliament for the principle of timely progress on the basis of individual results of the countries.
"I will be a strong advocate of making the enlargement policy a priority for the EU once again. We are aware that it is not only a technical but also a political issue, which is why it is important for Montenegro, as a leader in the negotiations with the EU, to continue to confirm its place in the EU, not only because of its geographical and cultural affiliation, but also because it was able to meet the demanding standards which Brussels set before it", EP Rapporteur Picula noted.
The two officials agreed that the membership of the Western Balkan countries is significant for maintaining peace and stability in the region, but also across the whole European continent.
They also referred to the fact that negotiations did not commence for North Macedonia and Albania, stressing that, while the wider region does not welcome this decision, it should not be discouraging but should instead serve as an additional motive for internal reforms to be implemented to an even greater extent and for preparation for full membership in the EU. In the light of Croatia's presidency in the EU Council, high expectations for this presidency have been created by Montenegro and by other Western Balkan countries as well. /ibna