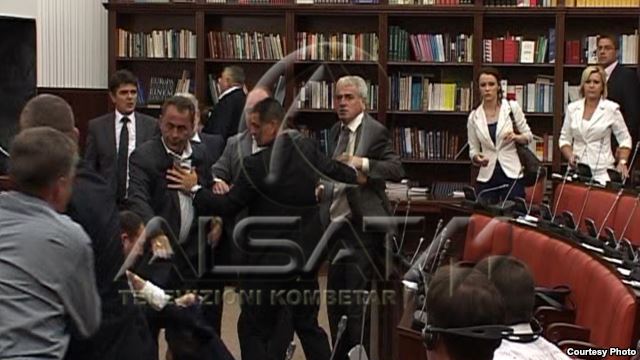 Skopje, August 26, 2014/Independent Balkan News Agency
By Naser Pajaziti
A physical clash has occurred today between MPs of two Albanian parties, PDSH (Albanian Democratic Party) and BDI (Democratic Union for Integration).
The clash occurred in the parliamentary committee for finance and the budget, which was discussing the review of the budget proposed by the government.The incident occurred when PDSH lawmaker, Orhan Ibrahimi attacked BDI lawmakers, by physically confronting one of them. But, other MPs have intervened. One of the beaten MPs, Rexhail Ismaili has sought medical aid in the Hospital of Skopje, due to the wounds sustained on the eye.
After a recess called by speaker of parliament, Trajko Veljanovski, the committee gathered in session again.
But, PDSH declared in a news conference that it will abandon parliament proceedings. "PDSH will not participate in the parliament proceedings and we will file charges against BDI lawmakers, who are criminals", said the head of PDSH parliamentary group, Imer Aliu.
BDI too denounced the incident. Its MP, Artan Grupi demanded the establishment of an inquiry committee in order to shed light upon this physical clash. "In the absence of offers and arguments, frustrated by the elections and its political action, PDSH is now resorting to fists and insults", said Grubi.
This is another incident occurred in the parliament of FYROM, following the one taken place between these two parties in 2007. A public television network has been present in the room and filmed the incident. /ibna/