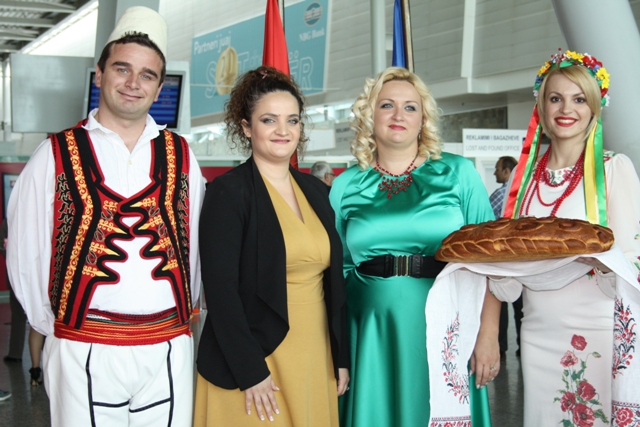 The first 80 tourists arrive. Charter airplanes arrive regularly during the summer season
Tirana, 20 May 2016/Independent Balkan News Agency
By Edison Kurani
While Russians are more and more leaving Turkey, which for years had been swarmed by tourists from this country, Albania has turned into a holiday destination much preferred by Ukrainian citizens.
The first charter for this holiday season with 80 Ukrainian tourists landed  in Mother Teresa airport from the airport of Borispol in Kiev.
According to the tourist operator which brings tourists from Ukraine, until September 22 charters will fly every two weeks, by bringing 160 tourists for every flight during the peak of the season from the cities of Kiev, Kharvov and Lviv.
Tatjana Bajraktari is from Ukrainian born citizen. She is the head of a tour operator and explains the itinerary that will be followed by this group of tourists.
"A part of them will go to the beaches of Durres, Vlora, Saranda and Ksamil. The other part will travel throughout Albania to see around 70% of the country for a period of 11 days that they will spend here".
Bajraktari assures that there will be other charters not only from Ukraine.
"Of course, because Albania is a pearl in the Ionian and Adriatic seas. I'm from Ukraine and I love Albania. I want to show to other people what beauties Albania has to offer and they will have lots of fun here".
But why have they chosen Albania as their holiday destination? This is what some of them say.
"We want to know more about this country, because we have heard about it, but we have never been here", says a Ukrainian tourist.
Asked if she has ever heard about Albania on the media or from friends who have visited the country before, she says: "In Switzerland work and live many Albanians of Kosovo and we wanted to see the country that they come from".
Another one says that this is the first time that she's visiting Albania: "I'm very happy to be visiting a new country, in order to get to know its people. I also want to discover a new country and perhaps invite other people to visit your country".
The deputy minister of Economic Development, Tourism, Trade and Enterprise, Adela Karapici says that this is a good start for the tourist season in Albania.
"The lifting of the visas has enabled the arrival of more tourists. This is the first Ukrainian charter, but we will have an impressive number of tourists that we will welcome in Albania to enjoy the beauties, quality of services and tourist products which are diverse", Karapici says.
According to her, there will be not only charters, but also cruise ships visiting all the ports of the country.
"We are supporting the promotion of tourism and the development of this sector, in order to increase their numbers as much as possible", the vice minister says.
In spite of the government's optimism for foreign tourists, Albanian infrastructure leaves much to desire. Two and a half decades after the overthrow of the communist regime, tourist services are still miserable. Tourist resorts are lacking, while hotels apply prices three times more expensive than Greece, by offering less comforts.
Roads continue to be uncompleted and most parts, there are no airports in tourist areas, the cruise ships cannot enter the country's ports and the majority of foreign tourists come for one day as part of the travel packages in the Balkan region. /balkaneu.com/