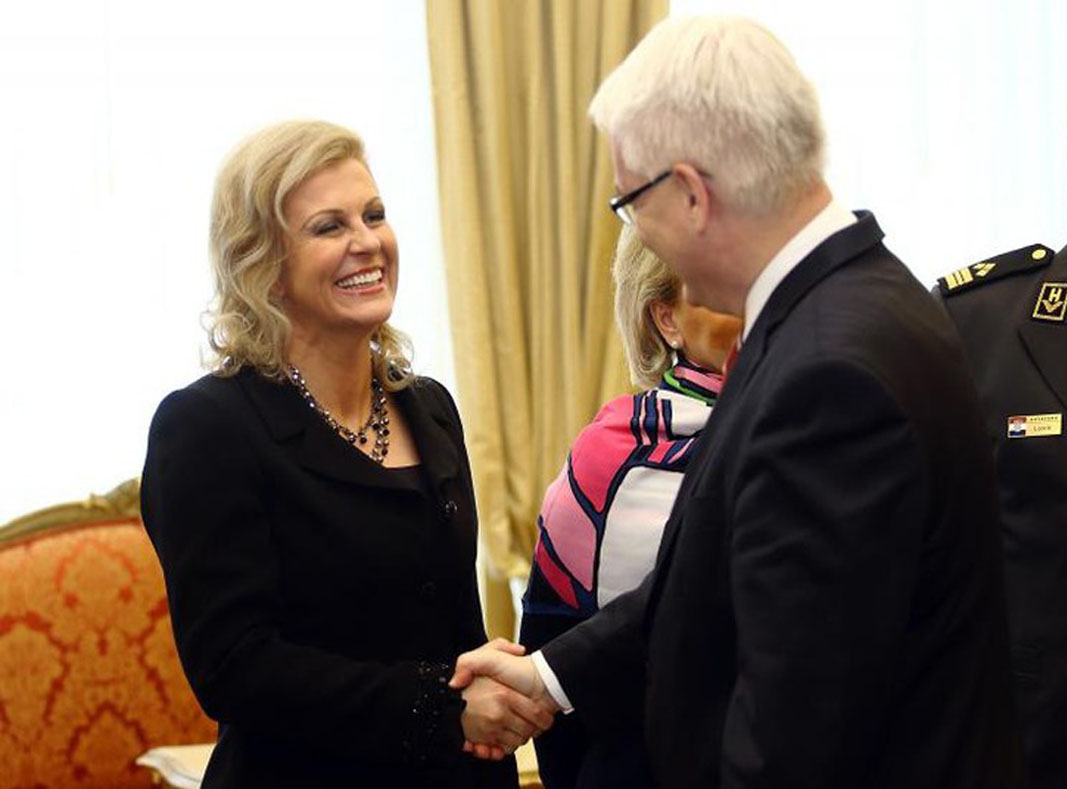 By Marija Avramovic – Zagreb
Yesterday in Dubrovnik, Kolinda Grabar-Kitarovic, who will be the Croatian Democratic Union (HDZ) candidate in the presidential elections, explained to reporters her decision to run for president expressing her deep concern over the situation in Croatia, which has 350,000 unemployed who increasingly sink into economic crisis, she said.
'I watch the citizens dig through trash cans. I never thought I would have to leave the food in Croatia in clean bags beside a garbage can, and that is the responsibility of political elites. I must say that I am ashamed", said Grabar Kitarovic.
"The President has a number of ways in which he or she can and must take care of the interests of the state and nation. If I become president, I will not be silent. The only reason for my candidacy is to improve the situation in Croatia, restore dignity and pride of the people. I want my children to live in Croatia, in Croatia we deserve", she said after opening a NATO conference in Dubrovnik in response to a reporter's question on why she decided to run for president of the Republic.
The former Croatia's Minister of Foreign Affairs and European Integration also said that young people are leaving, foreign policy is undefined, how Croatia hasn't yet felt it's admission to the EU and that consensus on important national issues hasn't been achieved. Considering this is her first appearance in front of reporters since her candidacy was announced, it was far from "photos and no words" as current Croatian President Ivo Josipovic has characterized Grabar-Kitanovic earlier. She didn't want to comment on Josipovic's statement today.
Asked if she has accepted the position of the HDZ who is led by Tomislav Karamarko, Grabar-Kitanovic said she did not know what Karamarko's HDZ is, but knows that the HDZ is a party with several hundred thousand members and said she was a "state first party second" kind of politician, but in regard to HDZ's president she said that "he is a very tolerant man".
Asked if she expected a "smear campaign", Grabar-Kitarovic replied: "What does not kill you makes you stronger" and said that the only results she recognized were those of the elections.
Organized by the Croatian Atlantic Council of NATO and the Center for International Studies in Dubrovnik today was held a conference with the theme "where are the limits of NATO's activities" and NATO's Assistant Secretary General for Public Diplomacy Kolinda Grabar-Kitarović gave the opening speech.
Josipovic said today that he respected each candidate for Croatian president, pointed out by any party, including Kolinda Grabar-Kitarovic, "cause she is a serious candidate for a serious party".
He didn't want to comment on her statements today, noting that during the electoral campaign there will be enough time for confrontation. "Today is her day, she has began he electoral campaign and gave her first statement, so welcome," Josipovic said in Virovitica where he inaugurated the first rotary-type solar power plant in Croatia.