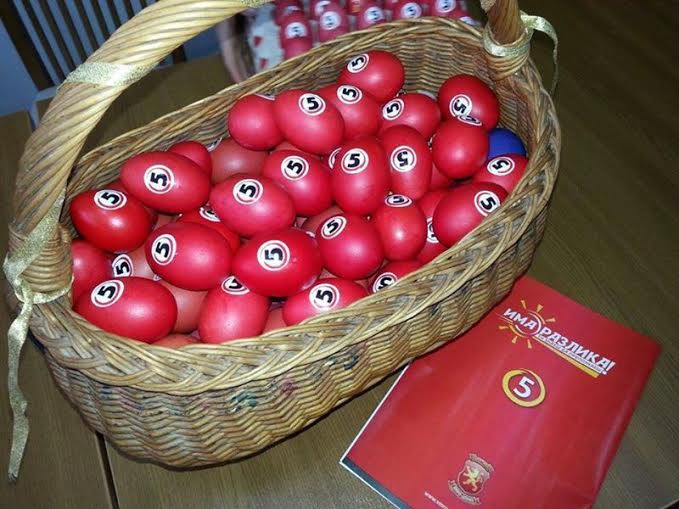 Skopje, April 22, 2014/Independent Balkan News Agency
By Naser Pajaziti
"Civil" non government organization, which is following the electoral campaign in FYR Macedonia says that even Easter days were used for the electoral campaign. According to this organization, priests were used in political messages, by demanding voters to vote particular parties.
"Priests from Tetotvo have called on voters to vote for the party in power on April 27 through social networks and other activities. Besides priests, Easter was also used by a large number of politicians and political parties. Thus, the population witnessed the coloring of eggs with political colors, the number of the political party in the electoral list, calls for voting and other types of propaganda. So, the people could not celebrate the resurrection of Christ in peace, due to the presidential and parliamentary elections", said the head of "Civil", Dzabir Derala for IBNA today.
The eggs colored with political logos and the number of the party in the ballot paper (photo) was a practice also used by the two largest parties, VMRO-DPMNE and LSDM.
Part of the campaign was also the inauguration of a giant cross in the Aerodrom commune in Skopje. Easter marked the presentation of this cross 51 meters high, which saw the participation of communal authorities and representatives of the party in power, VMRO-DPMNE.
The initiator of this project, the chairman of the World Macedonian Congress, Todor Petrov, declared for the media that the cross is not a provocation or conspiracy, by stressing that "Macedonia is the basis of Christendom".
"The decision for this cross to be built in Aerodrom relates to the fact that 99% of the population that lives in this commune is Christian", said Petrov.
But, Zabir Deral from "Civil" organization says that there's a lot of manipulation with the sentiments of the citizens on religion and a great division between people, contrary to the spirit of the religions. /ibna/