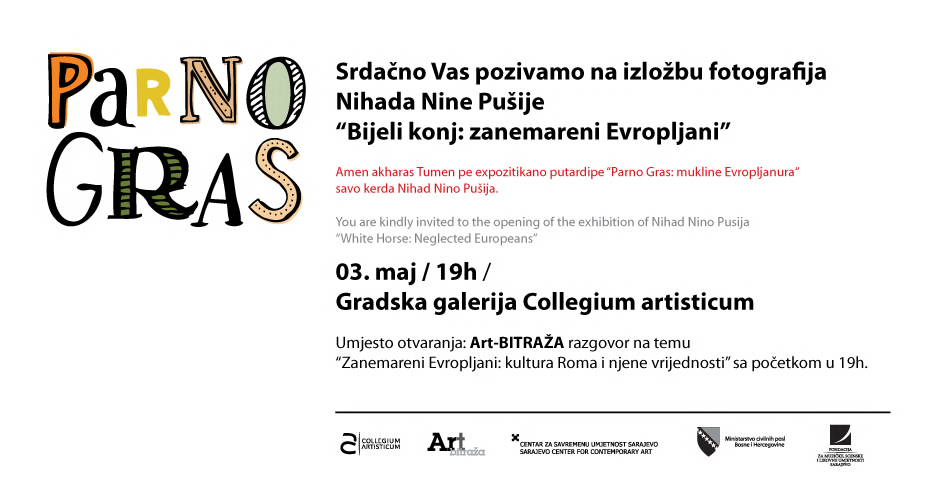 By  Medina Malagić – Sarajevo
An exhibition of photographs opened on 3 May at the Collegium Artisticum gallery in Sarajevo featuring the works of photographer Nihad Nino Pušija entitled "Parno Grad: Mukline Evropljana/Bijeli Konj: Zanemareni Evropljani" (White Horse: Neglected Europeans).
This photo-exhibition was made possible by the Center for Modern Art Sarajevo (SCCA) together in cooperation with the City Gallery Collegium Artisticum.
Nihad Nino Pušija is an art photographer who has been living in Berlin for around twenty years.
He explained the uniquenss of Berlin, a city that was once divided in two geopolitical halves-the Eastern and Western block. Even though the city is not divided any longer, the divisions and the connection is starkly visible. Throughout the past twenty years, he has documented the changes that the development of the city has undergone, as well as its people. According to him, as a foreigner and an art photographer, "the faces of the city's inhabitants become projections of the past and present events".
"My artistic goal is searching for human microcosmoses where I live and work, tracking the changes for years in people and their surroundings, with no prejudice but not without emotion. The results of my work so far have been a series of photos freed from unclear generalization", said Pušija.
The photos by Pušija at the exhibition features individuals and makes up a single document, or a group portrait of disenfranchised Roma. The photos seek to portray the fate of Roma people, and to elicit questions that deal with their existence, social, political and refugee status at the turn of two centuries in European countries such as Germany, Italy, Hungary, Austria, Romania, and countries of the former Yugoslavia.
This photo-exhibition that will be on display at Collegim Artisticum gallery every day until 21 May centers on photography that captures the particularities of Roma identity in Belin and in other parts of Europe. The exhibition features documentary and portrait photography. He places an emphasis on the personal stories of the Roma population in Europe, and the photos on display are a compilation of photos taken during the last twenty years of his work.