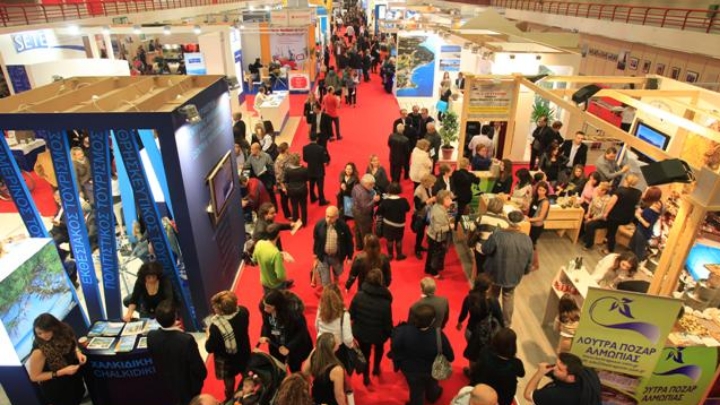 By Lefteris Yallouros – Athens
Greece's annual fair on tourism, "Philoxenia", opened its doors Thursday in Thessaloniki.
The fair will run from November 13 to 16 2014 at the Thessaloniki International Exhibition Center.
In its 30th year, Philoxenia serves as a forum of exchange between regional market players and local tourism professionals. It is considered as one of the largest tourism sector shows in southeast Europe. It provides the chance to explore the business opportunities in both Greece and the wider Balkan region.
Tourism is one of Greece's largest industries and one of the few sectors where the country enjoys a competitive advantage over others in the region. According to latest figures, Greece is seen welcoming 20.5 million visitors (not including cruise passenger arrivals) this year, up from 19.5 million originally estimated. 2015 is also expected to be a landmark year for attracting tourism investments to the country.
Speaking at the opening, Greek Tourism Minister Olga Kefaloyannis said the country's government plans industry-wide investments worth a total of EUR 500 million over the next six years. The main focus will be on developing key infrastructure (such as marinas, Eco-Industrial Parks, etc) and will be funded by the National Strategic Reference Framework.
The Greek tourism minister outlined the ministry's objectives for the coming period. Priorities include modernizing infrastructure, enhancing the tourism product, increasing spending per (tourist) capita, ensuring the sustainable development and identification of new destinations with emphasis on the protection of natural and cultural resources, increasing employment opportunities and strengthening social cohesion and supporting entrepreneurship.
She also called for the country's regions and local authorities to undertake initiatives and – in collaboration with the Tourism Ministry – promote their destinations. Kefaloyannis said 35 pct of the National Strategic Reference Framework funds (which total EUR 20.8 billion) will be funneled towards Greece's 13 regions while the Community Support Framework will also be utilized in 1.000 investment plans for so called Green & Alternative tourism.
During this coming weekend, Philoxenia is also open to the public to introduce them to new holiday destinations in Greece. The Greek Travel Pages (GTP) website has further launched the "Philoxenia 2014 Special," a section that contains messages from Greece's key tourism figures, industry professionals and regional governors on the significance of the Philoxenia expo for the Greek tourism industry.