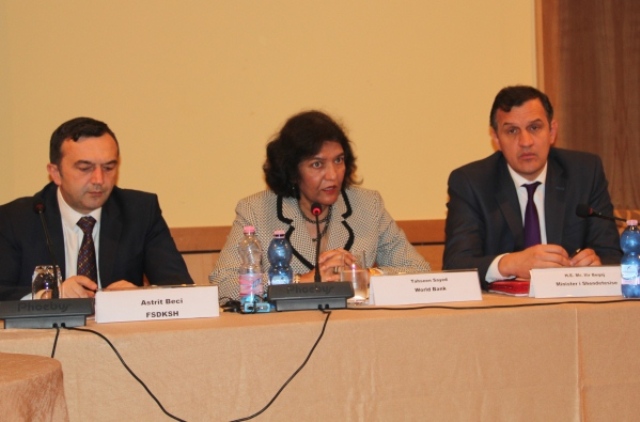 Tirana, July 17, 2014/Independent Balkan News Agency
The World Bank and the Ministry of Health of Albania held a seminar over the reform in the pharmaceutical reform in the country.
Present in this activity was the Minister of Health, Ilir Beqja, manager of the World Bank in Albania, Tahseen Sayed, deputy Minister of Health, Milva Ikonomi and representatives of the pharmaceutical sector.
The main findings highlighted the need for the reform in the pharmaceutical sector in order to rationalize expenses, improve decision making for refund and increase of equal access to medications. The report recommends rational expenses for medications, because this contributes to the welfare of the citizens.
"The government of Albania is undertaking reforms in the health sector to improve efficiency and quality of hospital services, which are backed by the World Bank through the future Project of the Reform in the Health Service", said Tahseen Sayed, manager of the World Bank branch in Albania.
According to her, the Ministry of Health must be praised for its efforts to secure equal access in health services and for the launch of a reform in the pharmaceutical sector, as part of the general reforms in this field. She added that in the past decades, Albania has made progress in the improvement of the health service, as life expectancy went up to 77 years in 2011 (80 for women and 74 for men) and is comparable to the other countries of the region. There are also some other indicators which have improved, such as death rate of infants and newly born, which went down from 18 to 11 in 1 thousand births, which is slightly higher than the Southeastern Europe average.
"A critical issue relates to the fact that people must still take money out of their pockets to pay for the health care and the quality of health care remains a significant concern. In 2013, public investment for the health care in Albania amounted to 2.6% of GDP, the lowest level in the region", said Sayed.
Sayed further declared that the scope of the pharmaceutical reform is the same as that of the reform in the health sector: equality and access, quality and efficiency. Nevertheless, due to differences in funding and the provision of services, some problems such as inequality can be difficult to tackle within the pharmaceutical sector.
Sayed added that hospitals in Albania continue to face a lack of medication and that the procurement of medications for hospitals is still a challenge. /ibna/