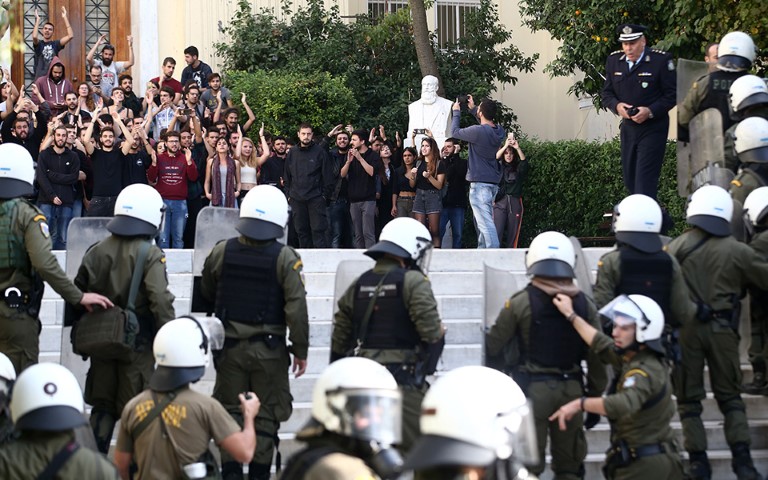 The government spokesman spoke about the "law and order" operations, attacking SYRIZA: "Last Saturday, the Counterterrorism Service neutralized a dangerous branch of Greek terrorism. This comprises a major breakthrough in safeguarding public security and democracy.
On Sunday, police dismantled a hideout of "looters" and a Molotov laboratory in the basements of the Athens University of Economics and Business.
Yesterday, Greek citizens were surprised to see a protest organized by SYRIZA executives demanding that the morbidity of previous years continue.
SYRIZA's stance has proved the party's support for the asylum of lawlessness and illegality. It has proved that it -once again- chooses to side with the looters. It tests the Greek society and the overwhelming majority of students.
The government is determined to eliminate the hideouts of the looters, the Molotov manufacturers, the drug traffickers and smugglers within universities. Universities from now on belong to their natural users: students, employees, teachers. Greek citizens in their neighborhoods and students in their universities will once again feel safe and free from the fascist imposition of weak minority views.
But it's not just Universities.
Today, as you know, another site was liberated from illegal occupation, this time in a heavily tormented Athens neighborhood on Bouboulina Street in Exarchia. This is the 12th release of an illegally occupied space.
Universities return to their students, neighborhoods to their residents and properties to their owners.
The police do not intervene because they like it; there was a Senate decision for the university to close down, some broke the padlock; the police intervened to enforce the law".
At the same time, the government spokesman announced the withdrawal of the blasphemy law, saying it was included by accident.
Reduced drug prices on the way
Mr. Petsas also spoke about the Prime Minister's morning meeting with Minister of Healthcare Vasilis Kikilias, which revolved around the government's decision not to apply the increases in drug prices that were voted by the previous government.
"On the contrary, the provisions put forward by the Ministry of Healthcare – which we hope will be passed by a large majority in Parliament- provide not only for a "freeze" on drug prices, but for also a reduction of up to 7% for some of them". /ibna