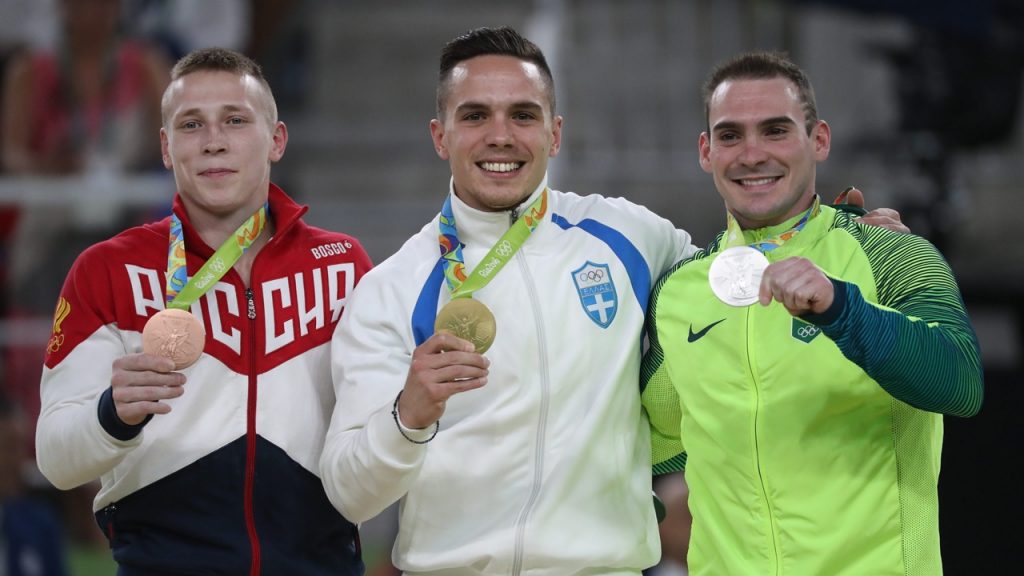 Rio, August 15, 2016/ Independent Balkan News Agency
By Zacharias Petrou
In a powerful display of control and strength, world rings champion Eleftherios Petrounias of Greece, 25, won the gold medal at the 2016 Olympic Games in Rio with a score of 16,000.
Brazilian Arthur Zanetti – who won the gold medal in the London 2012 Olympics – won the silver medal with Russian Denis Abliazin winning bronze (15,700 points). Zanetti lost out on the top prize by just 0.234 of a point.
It is Greece's fifth Olympic gold medal in gymnastics overall and the third time that the country has won the rings title.
Thomas Bach, the president of the International Olympic Committee, came down onto the competition floor during the final to congratulate Petrounias personally. The Greek athlete is now the running Olympic, World and European Champion.
Petrounias also received congratulations from Greek politicians for making the nation proud as he added to the first gold medal for Greece in Rio, won by Anna Korakaki in the women's 25 meter pistol competition. Korakaki also won bronze for Greece in the 10m air pistol event.
The President of the Hellenic Republic, Prokopis Pavlopoulos, said "the culmination of your already brilliant athletic track record in winning the gold medal in the Olympics makes you a real model Athlete and Human. Our country, and especially your generation, is proud of you".
Prime Minister Alexis Tsipras congratulated Petrounias, adding that "he offered us a memorable success for Greek sport" while main opposition New Democracy party leader Kyriacos Mitsotakis said the athlete showed "awesome combination of stength, flexibility and calmness".
Greek deputy minister for Sport, Stavros Kontonis, said "once again Greek athletes show that world class distinctions can be achieved, despite the manifold difficulties of recent years, with hard work, dedication, perseverance and patience […] Congratulations to our gold medalist, his coach Dimitris Raftis, the team that worked around him, the Federation of Gymnastics and of course those who stood beside him all this time".
Greece's athletes have faced great difficulty in recent years to train and qualify for the Olympic Games in Rio due to the economic crisis. Finding sponsors has proved extremely hard even for the most promising athletes. At the 2004 Olympics in Athens, sixteen Greek athletes won medals, and Greece was 15th in the medal tallies.
Since the economic crisis broke out in 2009, the lack of state and private sponsorship meant Greek teams and athletes even had to cover their own training and preparation costs.
Petrounias highlighted the effort he made in his statements after winning gold.
"The secret is work! We worked and we have prepared for these games. I was lucky because I didn't have injuries and I think we handled the Games correctly".
"The most important thing is that [the national anthem] was heard for the second time here in Brazil" he added, and then devoted the triumph "to my father, my coach and my family."