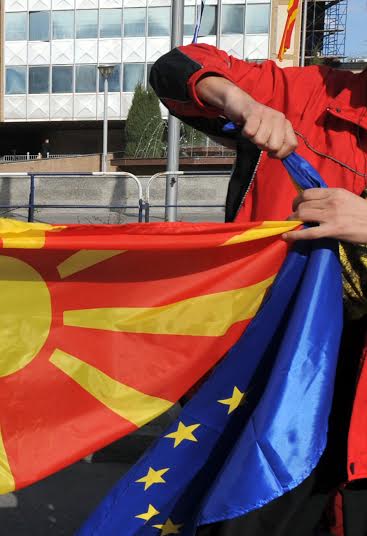 IBNA Special Report
Skopje, September 12, 2014/Independent Balkan News Agency
By Naser Pajaziti
Authorities in FYROM are expecting for the European Commission to issue the progress report on this country. The report has been announced to contain negative evaluations for the lack of political dialogue, incidents in parliament, the delays in the name dispute process, reforms and other issues. But, government authorities are optimistic.
"We're expecting for the progress made to be acknowledged in the autumn report of the European Commission, given that the report is the fundamental document which helps us determine the priorities for further reforms", declared deputy prime minister for European Integration, Fatmir Besimi, stressing that European Atlantic integration remains a crucial priority for the country.
The opposition warns that the country will be issued a more negative report with much criticism about the current government. "Judging by the current developments and the fact that the country is heading toward a crisis and chaos caused by this government, we expect an even more negative report and the possibility of the withdrawal of EU's investments", said Oliver Spasovski, secretary of the Macedonian Social Democratic League, the largest opposition party in the country. This party has demanded from the European Union to broker the dialogue between the leader of the majority and opposition in FYROM, in order to overcome the political crisis.
Analysts and experts of political development say that the country needs progress and concrete results and not complaints against the international community or neighboring countries.
"Under such circumstances, we must not continue to weep or accuse, but we must launch incentives and political and diplomatic activities. If we are more active in the process of integration, then we will have more positive results. I believe that the first thing that must be fixed and overcome is the name dispute. Without this, the country continues to head toward a deep isolation", declared analyst Ismet Ramadani for IBNA.
Former ambassador of FYROM to NATO, Nano Ruzhin also expressed his criticism about the fact that the country is not moving forward in the integration plan and that the government is offering a reality which serves its interests. "There must be more commitment toward problematic issues, political dialogue and acceptable solutions. We have strong divisions in terms of solving problems. I also think that with this government, we cannot address the challenges ahead, therefore the progress report will reflect this reality", says Ruzhin.
Ahead of the EU progress report, the country also received negative signals from the latest NATO summit in Wales, where no hope was given to accept the country in the Alliance and it was stressed that there cannot be accession without the solution of the dispute. /ibna/