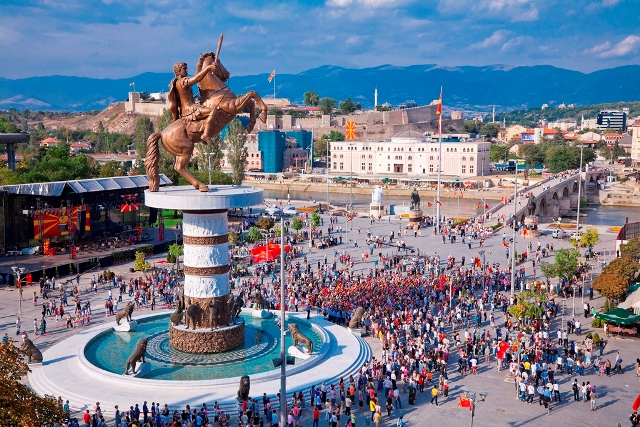 IBNA Special Report
Skopje, February 10, 2015/Independent Balkan News Agency
By Naser Pajaziti
Analysts and diplomats in Skopje are not hoping on an intensification of talks with Greece about the name dispute. According to them, the priorities of the Greek extreme left wing government do not include the solution of the name dispute which has lasted several years.
They say that Greek policies in relation to the European Union, financial problems and debts do not allow the new Greek government to deal with the name dispute.
University professor for international relations at the American University in Skopje, Stevo Pendarovski told IBNA that no concrete incentives are expected as far as the name dispute is concerned.
"I don't think that there will be incentives to find a solution as far as the name dispute is concerned. This means that there will be less pressure to encourage sides in order to reach a compromise, because the central focus in the neighboring country is on the new relations that Tsipras' government is trying to establish with the international factor, namely the European Union", says Pendarovski.
Former ambassador of FYROM in the NATO, Risto Nikovski also believes that the name dispute will be delayed by both Greece and the international community.
"The problems that will emerge between the Greek politics and European Union will cause tension, as a result of which Tsipras will not even bother to think about a solution on the name of our country, while the European Union will not demand such thing. All of this as a result of the clashes about the loan, its payment, interest rates, etc", said former ambassador Nikovski.
But, the head of ADI (Association for Democratic Initiatives), Albert Musliu says that the Greek government may do something, because it differs a lot from the traditional Greek governments so far, which have diplomatically kept the name dispute issue pending.
"The fact that Greece has a government which is not traditional and arrogant, offers hope that the neighboring country will be more open about the solution of the name dispute", says Albert Musliu.
Macedonian Foreign Minister, Nikola Poposki has issued the first signals for the continuation of talks about the name dispute by inviting in a meeting his Greek counterpart, Nikos Koxijas.
Poposki declared that it will soon be clear if this government will elude the meetings with the Macedonian representatives or if it will be open for dialogue.
"The involvement of the ultra nationalist Panos Kamenos' party in the government, with the condition that national issues must not open and for the name dispute with Macedonia not to be discussed, may be used as an alibi by Alexis Tsipras", said Poposki, adding that this will not prevent Skopje to insist on meetings and a solution. /ibna/