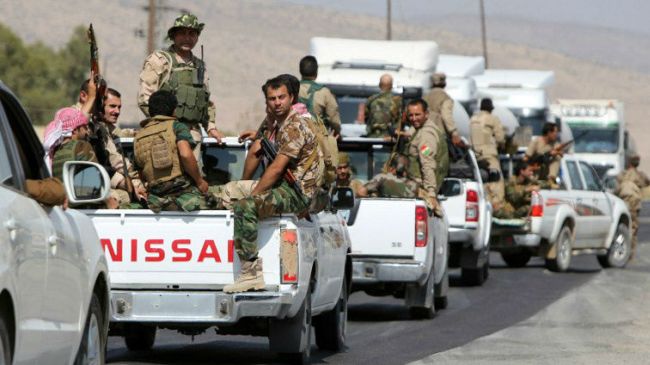 By Manolis Kostidis – Ankara
The first armed reinforcements from northern Iraq are rushing to Kobani.  According to the statement of Peshmergka, 150 men have departed from Armil by road and are heading to the city Silopi and from there they will head to Syria to participate in the battles against the jihadists. In the coming days more militants are expected to be sent.
Davutoglu: "We will not send troops to Kobani"
Ahmet Davutoglu ruled out any possibility of sending Turkish troops to defend Kobani. The Turkish Prime Minister in an interview with the BBC said that "if the international coalition does not want to send ground forces, how can they expect from Turkey to send ground forces, when the risk to our borders remain". O Davutoglu said that those who can save Kobani are some moderate forces like "the Pesmergka and the forces of the Syrian opposition" and called for the US to support the Syrian opposition "so if that if the Islamic State falls back, the gap that will be created will not be filled by the PKK or the Assad regime".
Biden to visit Turkey
The United States announced that the US Vice President Joe Biden will visit Ankara on November 20, as part of his tour in Ukraine, Morocco and Turkey. According to the announcement, Biden will meet with Recep Tayyip Erdogan and Ahmet Davutoglu.
PKK: "We did not kill the three Turkish soldiers"
The PKK announced that it has nothing to do with the cold-blooded murder of three soldiers in the city of Hakkari on Saturday. The Turkish government and the media had blamed the Kurds and after the denial of the PKK, people are beginning to speak of a provocation aimed at the discontinuation of the talks to resolve the Kurdish issue.