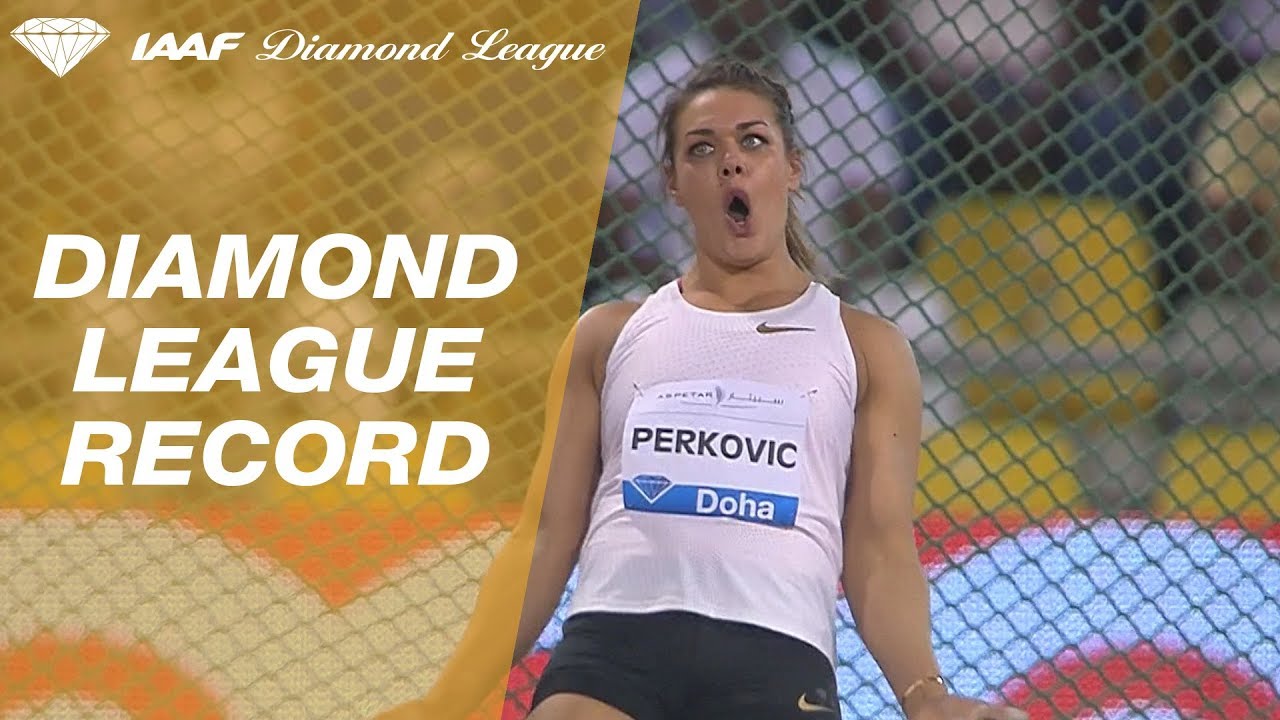 The present week marked the opening of the voting process for the 2018 World Athletes of the Year ahead of the IAAF Athletics Awards 2018 about to take place in Monaco on Tuesday 4 December.
On October 23rd, IAAF confirmed the list of 10 nominees for Female World Athlete of the Year (2018) "who were selected by an international panel of athletics experts, comprising representatives from all six continental areas of the IAAF".
Croatian discus thrower Sandra Perković is among them.
The rest of the nominated ladies are:
Dina Asher-Smith (GBR)
– European champion & world lead at 100m, 200m and 4x100m relay
– Second over 100m in the Diamond League final and Continental Cup
– Commonwealth Games relay gold and 200m bronze
Beatrice Chepkoech (KEN)
– World steeplechase record by eight seconds, backed up by the third-quickest mark of all-time
– Winner of seven out of eight steeplechase finals including the Continental Cup, African Championships and Diamond League
– Commonwealth Games silver at 1500m
Sifan Hassan (NED)
– World lead at one mile and 3000m, the latter set when winning at the Continental Cup
– European champion at 5000m; European records at 5000m and half marathon
– World indoor medals at 1500m and 3000m
Caterine Ibarguen (COL)
– Continental Cup winner, Diamond League champion and Central American & Caribbean – champion at both long and triple jumps
– World lead & unbeaten in eight finals at triple jump
Mariya Lasitskene (ANA)
– Winner of 25 out of 26 contests at high jump, including the World Indoor Championships, European Championships, Diamond League final and Continental Cup
– World leads both indoors and out
Shaunae Miller-Uibo (BAH)
– Unbeaten across five events in 15 races (13 finals & 2 preliminaries), including a 200m/4x100m relay double at the Continental Cup
– World lead and three wins at 400m with the world's fastest time since 2006
– Commonwealth Games and Diamond League champion at 200m
– World bests at indoor 300m and 150m straight
Caster Semenya (RSA)
– Unbeaten in her nine 800m finals including the Commonwealth Games, African Championships, Diamond League final and Continental Cup
– Commonwealth champion at 1500m and African Champion at 400m
– World leads at 800m & 1000m
Nafissatou Thiam (BEL)
– European champion, world lead and unbeaten at heptathlon
– World number three at high jump
Anita Wlodarczyk (POL)
– European champion, IAAF Challenge winner and world lead at hammer throw
Even five years ago, the IAAF website referred to the strong card of Croatia and read: "A year after becoming Croatia's first Olympic athletics gold medallist (Sandra Perković) since the country became independent; she can hardly be accused of resting on her laurels."
Nothing has changed ever since, as Perković keeps fighting with the same passion, the same eagerness and offers superb moments to sports fans like she did the summer of 2018 at the Berlin 2018 European Athletics Championships.
The world and Olympic discus champion from the Adriatic state became the first athlete to win five European titles in the same discipline.
According to the IAAF, a three-way voting process will determine the finalists.
The IAAF Council and the IAAF Family will cast their votes by email, while fans can vote online via the IAAF's social media platforms. Individual graphics for each nominee will be posted on Facebook, Twitter and Instagram this week; a 'like' on Facebook and Instagram or a retweet on Twitter will count as one vote.
The IAAF Council's vote will count for 50% of the result, while the IAAF Family's votes and the public votes will each count for 25% of the final result.
Voting for the Female World Athlete of the Year closes on 12 November. At the conclusion of the voting process, five men and five women finalists will be announced by the IAAF.
The male and female World Athletes of the Year will be announced live on stage at the IAAF Athletics Awards 2018…. / IBNA