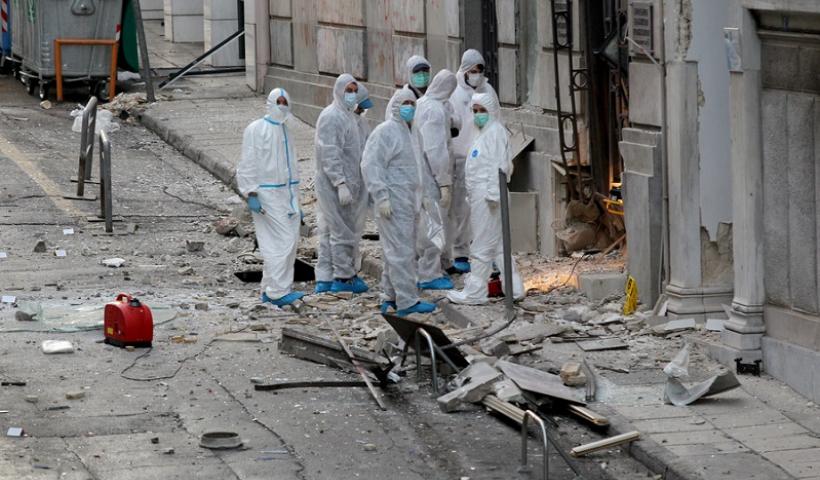 Athens, December 22, 2015/Independent Balkan News Agency
By Spiros Sideris
The organization "Peoples' Fighters Group" claimed responsibility for the explosion at the offices of the Hellenic Federation of Enterprises (SEV), on November 24, 2015, at Xenofontos Street in Syntagma Square, with a 32-page long manifesto, which was put in a usb. Preliminary investigation is conducted by the Directorate of Special Crimes of Violence.
Prior to that, an unknown call had been made to Lambrakis Press, warning of the existence of the manifesto. Although the initial information talked of a usb inside a trash bin, eventually the police found the Sticks in an electricity box.
The memory stick was then transferred to the offices of the Counter-Terrorism Service, where after being screened for genetic material and fingerprints, would pass in the hands of the officers of the Police, in order to examine the content and the name of the organisation behind the attack.
The organization "O.L.A." had first appeared in January 2013 with the attack on the offices of New Democracy on Boulevard Avenue, while it is also behind the attack on the residence of the German ambassador in Halandri in December 2013. The same group also claimed responsible for the attack on the Embassy of Israel in December 2014.
The explosion in SEV had caused extensive damage to the offices of the building, to the embassy of Cyprus that is directly opposite, as well as to the surrounding buildings. The explosion was preceded by warning phone calls to the newspapers "Newspaper of Editors" and "To Vima". The first call was at 2:51 a.m. and the second at 2:55 a.m. The stranger alerted that a bomb had been placed at the entrance of the offices of SEV, allowing for 40 minutes until the explosion. Police had sealed the site and had removed the security guard who works at the closed parking that functions the point. They also proceeded with the evacuation of the hotel at the intersection of Av. Amalia and Xenophon. The mechanism was clockwork and exploded at 3:35 am.