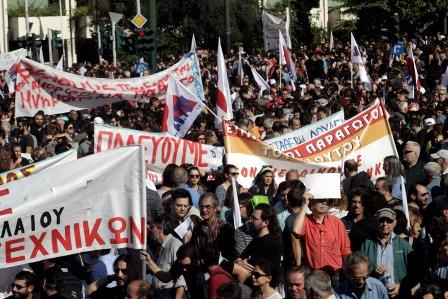 Athens, November 13, 2015/Independent Balkan News Agency
By Spiros Sideris
The Greek people responded in numbers to the rallies of GSEE-ADEDY and PAME in Athens, Thessaloniki, Patras and other large cities for the 24-hour nationwide strike against the government's austerity policies.
Workers responded to the call of GSEE, ADEDY, NRAs, WTO TABs, OLME and other organisations, initially gathering in Klathmonos Square and then marching to the Constitution Square.
According to preliminary estimates, about 6,000 people participated in the mobilisation. The first block of the protesters reached the top of Constitution Square shortly after 12:30 noon, while the last blocks entered in the square at about 14:00.
George II Avenue – in front of the hotels – had been blocked by police forces. There occurred the first episodes, while unknown perpetrators caused disasters on other parts of Stadiou Street and the Propylaea.
Students made their own gathering in Kotzias square and then headed for Constitution Square as well.
The Popular Unity (LAE), anti-authoritarians and the extra-parliamentary left – about 6,000 persons – gathered at the National Archaeological Museum and then made their way to Constitution Square.
At the forefront of were top members of LAE, such as Panagiotis Lafazanis, Zoe Konstantopoulou, Nadia Valananis, Kostas Ysichos, Dimitris Stratoulis and Rachel Makris.
The president of DIMAR and parliamentary representative of the Democratic Coalition Thanasis Theocharopoulos attended the rally organised by GSEE- ADEDY.
There was also a large rally of PAME at Omonia Square, in which took part the General Secretary of the Greek Communist Party (KKE) Dimitris Koutsoubas. Participation, according to estimates, exceeded 12,000.
Separate rallies in Thessaloniki
In Thessaloniki, the rally of GSEE-ADEDY took place in front of the Labour Centre of PAME in Venizelos Statue at Aristotelous, while unions adjacent to the extra-parliamentary Left, and the Popular Unity gathered at Kamara.
Some 10,000 people participated in the protests.
Patra: Tension between SYRIZA and LAE
There tension in the rally in Patra among members of SYRIZA and LAE for banners. As reported in "Patra Times", there was disagreement as to which of the two banners will be placed in front of the march.
Eventually spirits calmed down and the SYRIZA members led the demonstration through the streets of Achaean capital. The march was completed shortly after 12:30 without any more incidents.