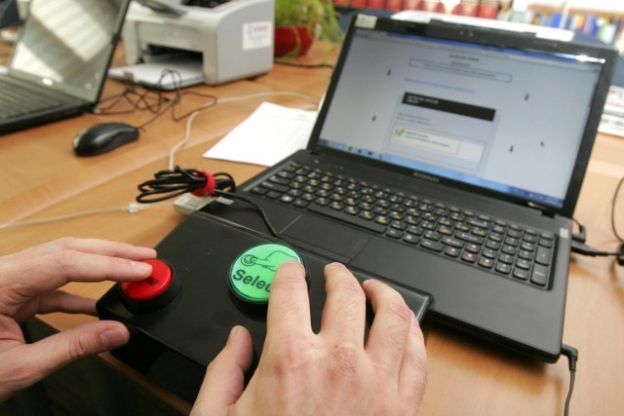 By Maja Tuljković – Sarajevo
The B&H Association of Election Officials (UIZBiH) and experts in the electoral systems presented at the beginning of September a project called 'Improvement of conditions for personal and independent voting for B&H citizens with disabilities', which will facilitate the participation of B&H voters with disabilities in the electoral process.
A device that allows people with disabilities to independently fill out ballots was presented today in Sarajevo to representatives in the B&H Parliamentary Assembly. They were presented with four devices for voting, which allows this population to independently go to the polls. Representatives were also shown systems for voting for municipal mayors and for municipal councils where one party and several candidates are being elected within the party.
The device that is intended for individuals who are blind allows for the use of a push button control system for voting, as well as a device for people with limited mobility, who use a tube to blow out air without any movement. People who are blind can vote with the help of a system that reads what written on the screen, and people who are only able to use their feet, can vote with the help of a special button. This technology can help people with a wider range of disabilities in B&H, and works this way since it is plugged into a laptop. If necessary, it can be connected to a printer in order to print out the ballot if law in a certain country requires it.
B&H signed the United Nations Convention on the Rights of People with Disabilities and the Optional Protocol on 29 July 2009. Article 29 of this Convention allows people with disabilities to participation in political and public life, with a special emphasis on the right to vote and to be elected. This includes the obligation of the state to ensure that voting procedures, facilities and related materials are available and easy to understand and to use, and to protect the rights of people with disabilities. In B&H until now, the exact percentage of people with disabilities who go out to vote is not known.
Funds for this project were provided by the US Agency for International Development (USAID) and the International Agency for Election Processes 'Everyone Counts' is responsible for the application of the technology.
The Association of Election Officials advocates amending the Election Law, because the current law does not allow electronic voting or electronic marking ballots. They hope that by the 2014 elections a new law would be adopted and that people with disabilities would be able to vote independently.