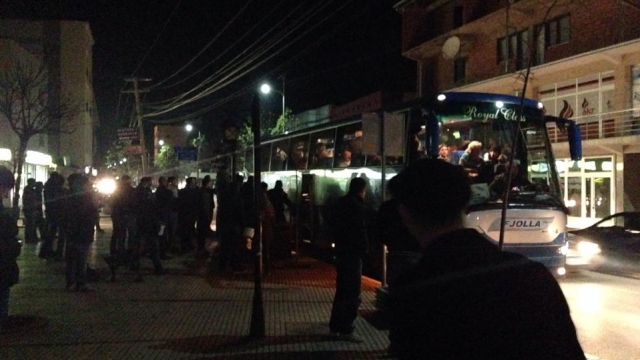 IBNA Special Report
Pristina, December 17, 2014/Independent Balkan News Agency
By Elton Tota
Every day, five to ten buses with young people who are looking for a better place in European countries, leave Pristina or other small towns in Kosovo.
They do not want to heed the appeals of Kosovo authorities and EU officials that illegal migration is damaging and has consequences for them.
"There's no perspective in this country. Kosovo is being governed by irresponsible people who are not thinking about the future of young generations, but only about their own personal and family interests. Here there's no work, no proper education, no safe health services and life is difficult here. This is why I'm trying my luck in a European country", says Sh.M, a young man from Pristina.
Illegal migration of Kosovo nationals toward EU countries is considered to have a double negative impact for Kosovo, according to the minister for European Integration, Besim Collaku.
"Whoever follows this path, puts himself and his family in a great danger, without benefiting anything. The only people who benefit from illegal migration are traffickers and criminals", says Collaku.
As far as what the authorities are doing to stop this phenomenon which has spread a lot recently, Bekim Collaku says that authorities and police are tackling it in an intensive way.
"As a result of our efforts, there have been tens of cases where we have prevented such attempts and there have been tens of arrests of people who have been involved in this unlawful traffic. Besides this, public opinion in Kosovo has been constantly informed that it shouldn't fall a victim of traffickers, whose aim is to manipulate common people. EU embassies in Kosovo are part of this effort to inform the citizens", Collaku says.
PM Isa Mustafa said that it's sad to see tens of buses filled with citizens leave Kosovo to EU countries.
"It's sad. Measures must be taken in order to stop traffickers, who are also Albanians from Serbia. EU ambassadors are worried about this situation and we repeat that citizens of Kosovo are being manipulated. Even if they reach EU countries, they will be returned", declared Mustafa.
EU: Do not leave the country, Kosovo nationals are not granted asylum
Representatives of the EU office and EU member countries in Kosovo, have met on Tuesday in order to discuss the growth of the number of Kosovo nationals who are leaving the country to travel to the European Union in an illegal way.
Present in this meeting was Shaban Guda, head of the Kosovo Border Police, who talked about the current situation with illegal migration and preventing measures that the government of Kosovo is taking.
On this occasion, Thomas Gnocchi, head of the EU Office to Kosovo, said that the EU grants asylum to people who leave their country for fear of dying and who need international protection.
According to him, in Kosovo's case, there are very few chances for asylum applications to be granted.
"Every decision to grant asylum is individual, but we must stress that the majority of applications coming from Kosovo are refused and the asylum seekers are returned to their country. Citizens from Kosovo spend a lot of money and end up by returning to Kosovo and still remain poor upon their return", said Gnocchi.
He added that as far as the talks for the liberalization of visas is concerned, it's not in the best interest of Kosovo to have such a large number of asylum seekers.
"EU is concerned about the involvement of groups of traffickers, who take advantage of the despair and readiness of several citizens in order to assist them into reaching EU countries. For this, we call upon authorities in Kosovo to engage and tackle these criminal groups. Kosovo must also collaborate with neighboring countries in order to exchange information about the activities of these traffickers", Gnocchi added. /ibna/