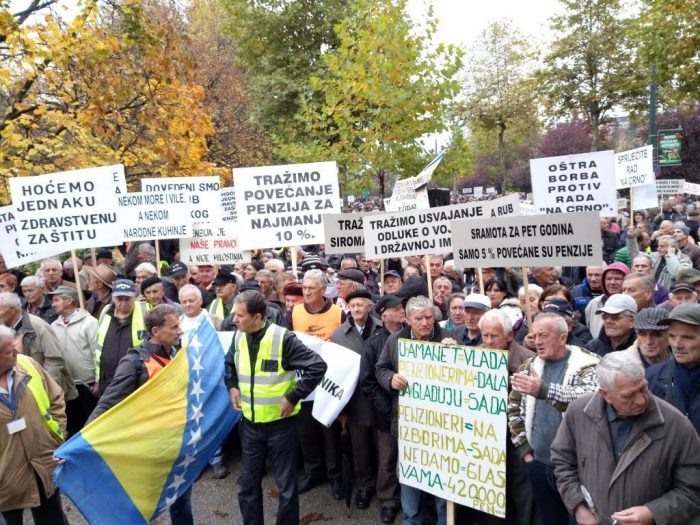 Pensioners from the Federation of BiH gathered on Wednesday to hold a peaceful protest in front of the FBiH Government building in Sarajevo, because the new law on pensioners' insurance and citizens with disabilities, determined in a form of proposal by the FBiH Government at yesterday's session and introduced in expedited parliamentary procedure, was not adopted.
About 10,000 protesters who took to the streets made the rally one of the most crowded of last several years and pensioners have become the greatest rebels of the present (in BiH). Even the demonstrations of political parties in both entities have not managed to gather so big a number of participants. If it is possible to compare, demonstrations of opposition parties and counter-demonstrations of RS's ruling coalition parties held on the same day in May 2016, in Banja Luka, was estimated they gathered about 10,000 together, in total. RS's opposition also have been unable to gather more than 1,000 people at the so called "citizens' assemblies" as numbers from three cities prove. This means that they will never get to reach the number of FBiH pensioners who protested on Wednesday, in Sarajevo.
None of the rallies which were held on the same location had even close as many participants as at the pensioners' rally. This refers to demonstrations organised by associations of veterans, students, doctors or workers that were considered more or less successful.
By far, pensioners can take pride in a protest that actually hit the target. They made authorities listen to them and decided to adopt relevant measures. The media reported that the delegation of protesters was received by the PM of the Federation of BiH, Fadil Novalic and the Labour and Social Policy minister, Vesko Drljaca at the Government building. They promised that the disputed law would be adopted by the end of the year and that all other demands would be respected and met.
The protest began at 11.00 a.m. local. Of all the speakers only one was not received well by the crowd. It was the President of the Assembly of the Association of Pensioners FBiH, Omer Efendic. Gathered protesters disapproved of his overall stance concerning their problems as he is being holding his post of over twenty years (the highest positions in pensioners' associations) and has done nothing to improve the situation. The rally lasted for almost two hours and ended peacefully.
It is interesting that police raised the fence around the building and brought a large number of police officers in full equipment, probably to stop "violent" 65-80 year-old-citizens who could cause damage to state property.
According to official data, in September 2017, 63 percent of pensioners in the Federation of BiH received a less -than- 150 euros -monthly-pension. In the past five years, there has been a five-percent-pension-rise only…/IBNA