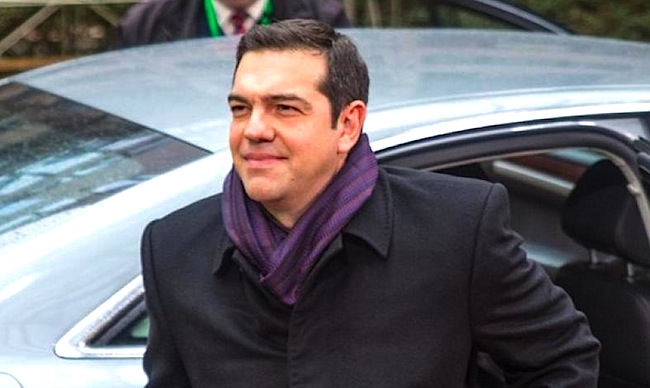 Athens, January 20, 2016/ Independent Balkan News Agency
By Zacharias Petrou
As Greek Prime Minister Alexis Tsipras travelled to Davos, Switzerland on Wednesday for the World Economic Forum, strong protests continued in Greece over the government's social security reform plans.
Farmers from all over Greece escalated their mobilizations against the proposed social security reform plans. Hundreds of tractors prepared to block off roads at various points. A delegation consisting of farmers from across the country will meet on Sunday to decide their next moves. So far participation in road blocks has been high with more tractors expected to join blockades.
Farmers joined unions and professionals' groups who are also strongly protesting the planned pension reform.
The Hellenic Confederation of Professionals, Craftsmen & Merchants (GSEVEE) – representing self-employed freelance workers and owners of small businesses – urged its members to join in 24-hour strikes, protests and other labor actions organized by trade unions and trade associations on February 4.
GSEVEE also urged its members to turn out for a rally taking place on Thursday in Athens and other Greek cities, along with lawyers, doctors and other freelance professionals, to protest against the proposed reforms.
Furthermore, a 48-hour strike has halted operations at major Greek ports as the Seamen's Union protests planned changes to labor and insurance rights, pensions and retirement ages. The industrial action affects domestic ferries and commercial vessels calling to unload cargo at the ports of Piraeus, Aspropyrgos, Eleusis, Pachi, Megara and Thessaloniki.
Pressure
With the pension reform issue unresolved the Greek Prime Minister's trip to Davos is a difficult one as he will be questioned by investors, leaders and officials about developments.
Amid reports that the creditors are seeking more fiscal measures and a pushing for a stricter framework for the reform of the social security system, Tsipras will seek to persuade investors to include Greece in their choice of preferred investment destinations; that's a tall order considering the review of Greece's bailout program will not begin if agreement on pension reform with creditors is not reached.
Speaking to Bloomberg at the World Economic Forum in Davos, European Commissioner for Economic Affairs, Pierre Moscovici said "the draft of the Greek social security reform plan is comprehensive and positive". Moscovici added that there is a "very constructive climate" in talks with Greece.
He added, however, that "a bold and ambitious reform of pensions is needed" and that the Greek side must come up with "more precise parameters".
Moscovici also said that wrapping up the review of the program was a prerequisite for discussing Greek deb "re-profiling". "It is absolutely necessary that the IMF stays on board […] We need to find a deal all together," he added.
Clashes
Protests got out of hand on Wednesday morning as violence broke out at the farmers' blockade in Komotini, northern Greece, when some of the 2.000 protestors gathered outside the regional administration building where Deputy Agriculture Development Minister Vangelis Apostolou was.
Farmers threw eggs and attempted to enter the building before clashing with police forces that eventually used tear gas to break up the crowd. The protestors threatened not to allow the Deputy Minister to exit the building unless he agreed to withdraw the social security reform plan.
Ultimately, farmers managed to enter the building and meet the minister.