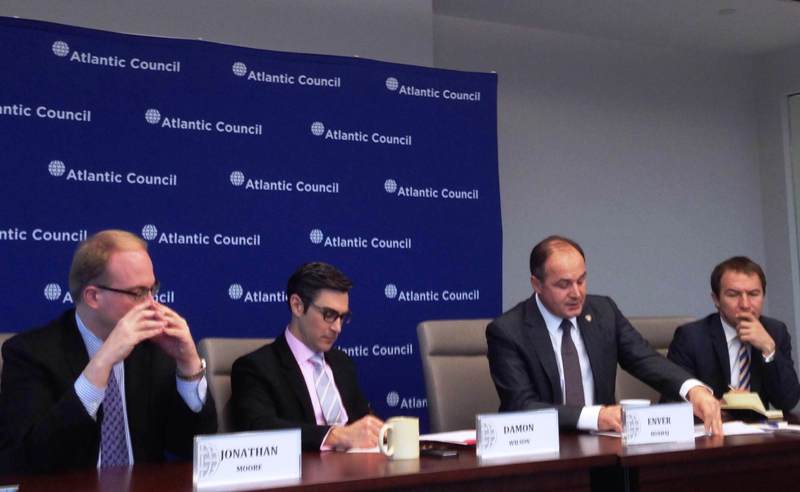 Pristina, February 6, 2013/Balkan Independent News Agency
Minister of Foreign Affairs of the Republic of Kosovo, Enver Hoxhaj has warned Washington that without the recognition of Kosovo, there's no normalization of relations with Serbia.
Mr. Hoxhaj has started an official visit to the United States of America, where he held a speech in front of a very special decision making panel in Atlantic Council in Washington D.C.
Speaking on the achievements and challenges in the talks with Serbia, minister Hoxhaj said that there are 5 issues which need results in order to consider relations between Kosovo and Serbia as normal.
"First of all, all the agreements that have been reached so far must be implemented without a tendency to renegotiate or change them. Secondly, the process of the dismantlement of parallel structures in the north must be finalized as soon as possible and there should be nothing unclear in this aspect. Thirdly, there must be commitment for the full integration of Serbs of Kosovo in the institutional structures, as it happened with the successful wave of integration of Serbs following the independence of Kosovo. Fourthly, the sovereignty of Kosovo must be respected and there should be no barriers for accession in regional, European organizations and especially in the UNO.
Lastly, the full normalization will take place when we have a mutual recognition of the sovereignty and independence of both of our countries", said minister Hoxhaj.
Minister Hoxhaj also declared that Kosovo is committed in offering to Kosovo Security Forces NATO standards and after it achieves full capacities and after the revision of the security sector, Kosovo will be part of Partnership for Peace and NATO member.
During his stay in Washington, Hoxhaj will hold numerous meetings with representatives of the US Department of State and other state officials. /ibna/