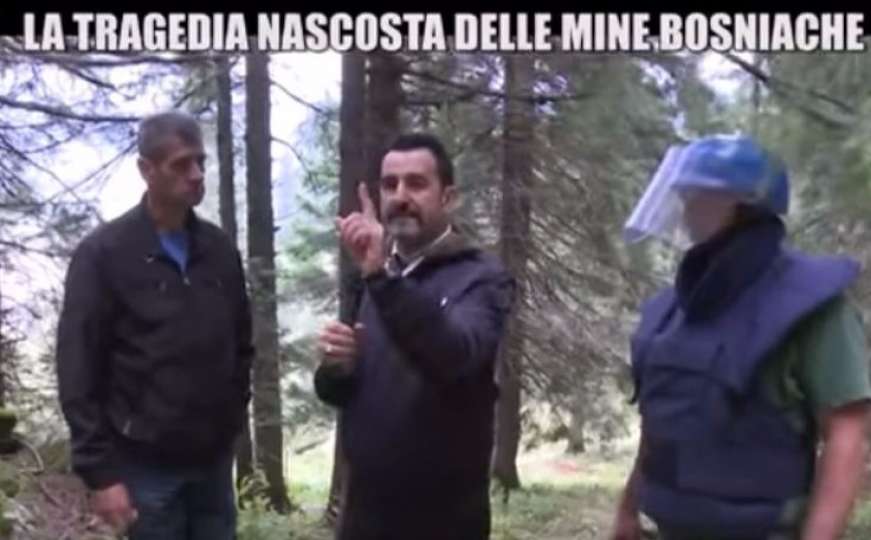 The Italian journalist Luigi Pelazza, who with his first video story, triggered one of the most controversial investigations in BiH, published a new video story about Bosnia which indicates that explosives extracted from mines in this country is used in terrorist attacks in the European Union.
Pelazza is the investigative journalist for the Italian show "Hyenas" and has made several stories in BiH regarding the illegal trade of weapon. In his first story, Pelazza purchased a number of guns in several locations in BiH, such as Sarajevo and Mostar. The smuggler told him how to transport the weapon over the border, in Croatia. The story caused several arrests, but State Investigation and Protection Agency and BiH Prosecutor's Office blamed Pelazza for forgery. They concluded that Pelazza gave money to several persons who played the roles of weapon sellers. Despite the fact that these institutions say that his story is not true, investigation continues and several more persons are suspected. Pelazza answered that he will send the original tape to police agencies in BiH and prove that his story is a true.
Now, Pelazza went a step further and pointed out the illegal trade with explosives, which is obtained from mines remained after the conflict in BiH, in almost whole country. According to Pelazza's story, landmines and explosives are sold on the black market. He made an interview with the director of Mostar based Humanitarian demining organizations "ProVita", Davor Kolenda, who spoke about the fact that thousands of anti-personnel and antitank mines are still a threat.
But the biggest problem is the danger that they are available to those who can misuse this mines. As a proof that it actually is happening he said that they found empty mines.
The Italian journalist was accompanied by a demining team and the man who discovered the place in which the mines are placed. It was recorded in an unnamed part of BiH and Pelazza testified that the mine can be seen in some places in nature with the naked eye. But the focus of the story was on the separation of the explosives from the mine. Experts explained to him that the chemical mixture inside the mine consists of three types of explosives and that they are of different capacities and purposes.
"The phenomenon of explosives stealing is not observed only in BiH, but it is the first case where it is proven that explosives were taken to perform terrorist attacks in EU. In BiH there are more than 3,500 people suspected as terrorist threats, but the single idiot is enough. The problem with landmines is not only a BiH issue. Explosives stolen here can end up in Rome, Paris, Berlin… anywhere", Kolenda said.
It is expected that police agencies in BiH began with serious investigation in this case, but not to blame journalist for forgery in order to keep the state institutions clean of responsibility./IBNA