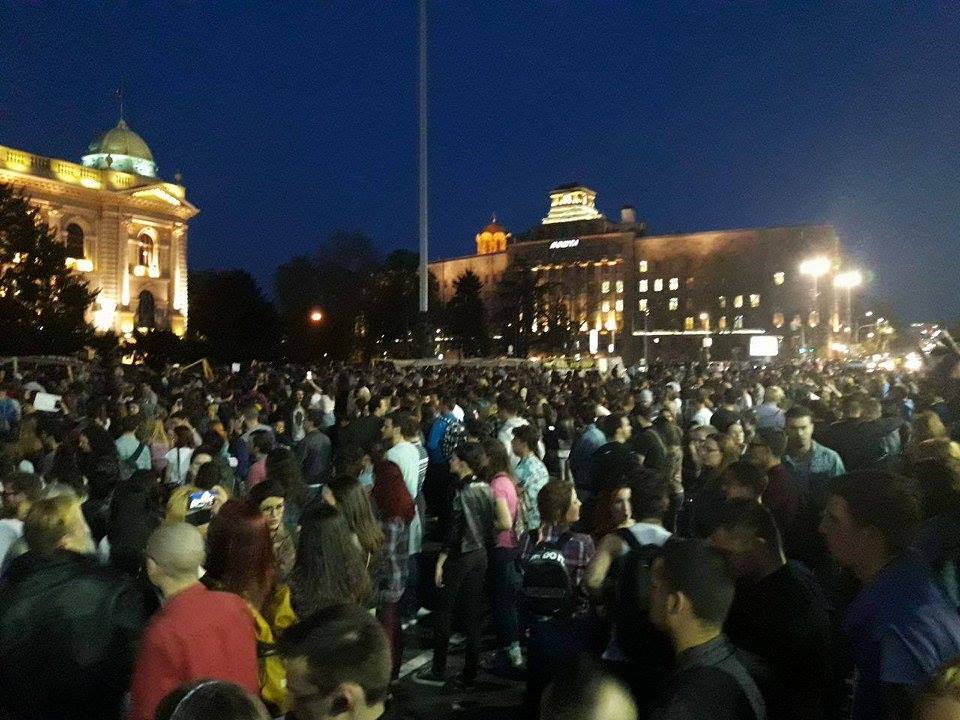 Serbia is a democratic country and protests about elections results are acceptable as long as they are peaceful, prime minister and president-elect Aleksandar Vucic said today, reacting on gathering in the center of Belgrade on Monday evening. Several thousand people, mostly students, demonstrated after Vucic gained some 55 percent on Sunday voting and was elected for president in the first round.
The protest was held under the motto "Against the dictatorship" and organizers announced a next rally for Tuesday evening in several cities. "Little Alek – Great dictator" was one of the banners in the protest with reference to Vucic's nickname. "You have stolen the elections", some shouted.
"Serbia is a democratic country and everyone can be happy or unhappy over elections results", Vucic said, adding that he could have invited his followers to celebrate his victory in the streets. "We do not have time for it. We have to work and be even more successful and diligent", he said in Mostar, before meeting with his Croatian homologue.
Those who have time for protests can go to the streets as long as protests are peaceful, PM reiterated, adding that "some politicians" incited violence recently. Vucic also suggested that the protesters have scraped placards with photos of killed and kidnapped Serbs in Kosovo; these placards are regularly installed in front of the parliament, where protests have taken place.
Protests were also held in Novi Sad and Nis. According to Danas daily, they have been organized via Facebook, without formal leaders.
The defeated presidential hopefuls, including former ombudsman Sasa Jankovic and ex foreign minister Vuk Jeremic, have declined to congratulate Vucic so far./IBNA