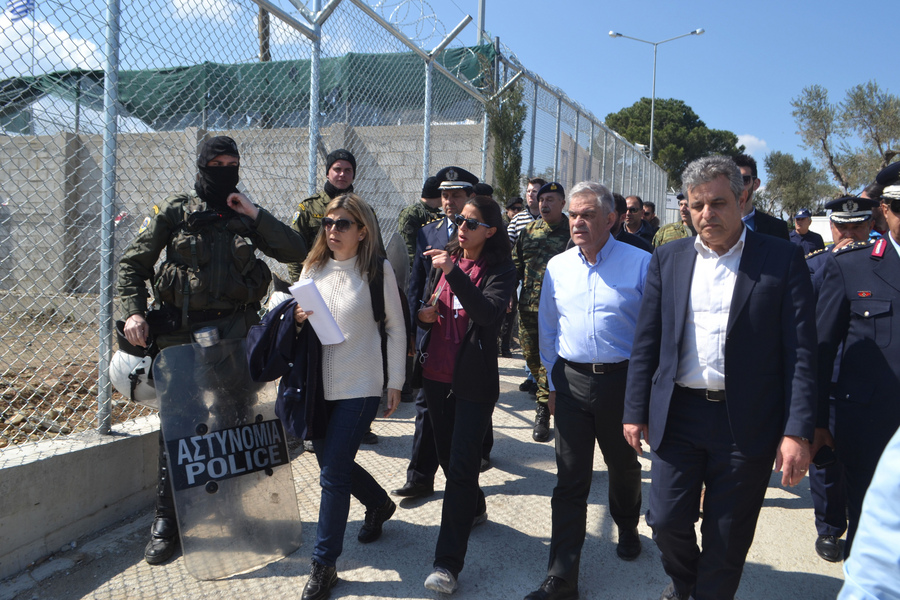 Athens, March 29, 2016/Independent Balkan News Agency
By Spiros Sideris
With slogans «freedom» (free), «no Turkey» (not in Turkey) and «open Vial» welcomed dozens of refugees and immigrants in the hot spot of VIAL, Chios, the deputy minister of Citizen Protection Nikos Toskas on Monday afternoon.
Before he completed the tour in the areas of the hot spot, appeared from the top tier the first improvised banner with the slogan «open Vial», in the peaceful demonstration made by refugees and immigrants.
The deputy minister arrived in Chios from Mytilene shortly after 5 pm, accompanied by the deputy prefect of Chios, Stamatis Karmantzis.
He was briefed in afast tour in the hot spot areas – by the administration of the center, and the leadership of the police.
In his brief statements made known that there are ongoing talks between EU and Turkey on the practical matter of the implementation of the Agreement and in particular the readmission of refugees and migrants to Turkey, without – however – to determine when this will happen.
Answering to a question of astraparis.gr of what will happen if there are significant refugee flows and the fact that already the hot spot has exceeded its capacity, N. Toskas argued that VIAL has not reached its limit.
He added that in such a case they will be moved to other islands, of which the reception and accommodation centers are not full without again to determine how this will be done in practice.
Visit to Mytilene
To check the state of the infrastructure required to examine the asylum requests of refugees visited on noon in Mytilene the deputy minister of Citizen Protection Nikos Toskas.
In a statement to AMNA, N. Toskas referred to the finalization of the technical part of the readmission.
He also commented on the reduction of flows of refugees and migrants to Greece, stressing that it remains to be seen whether Turkey has eventually reduced flows in compliance with the Agreement with the European Union.
Finally, he referred to the role of NGOs, which – as he stressed – must "be useful for refugees and to better support the country and international agreements".
During his visit to the hot spot of Morias, N. Toskas met with US deputy Foreign Secretary Heather Higginbottom, whom he briefed on the efforts made by the Greek government for the safe management of flows of refugees and migrants to Greece.