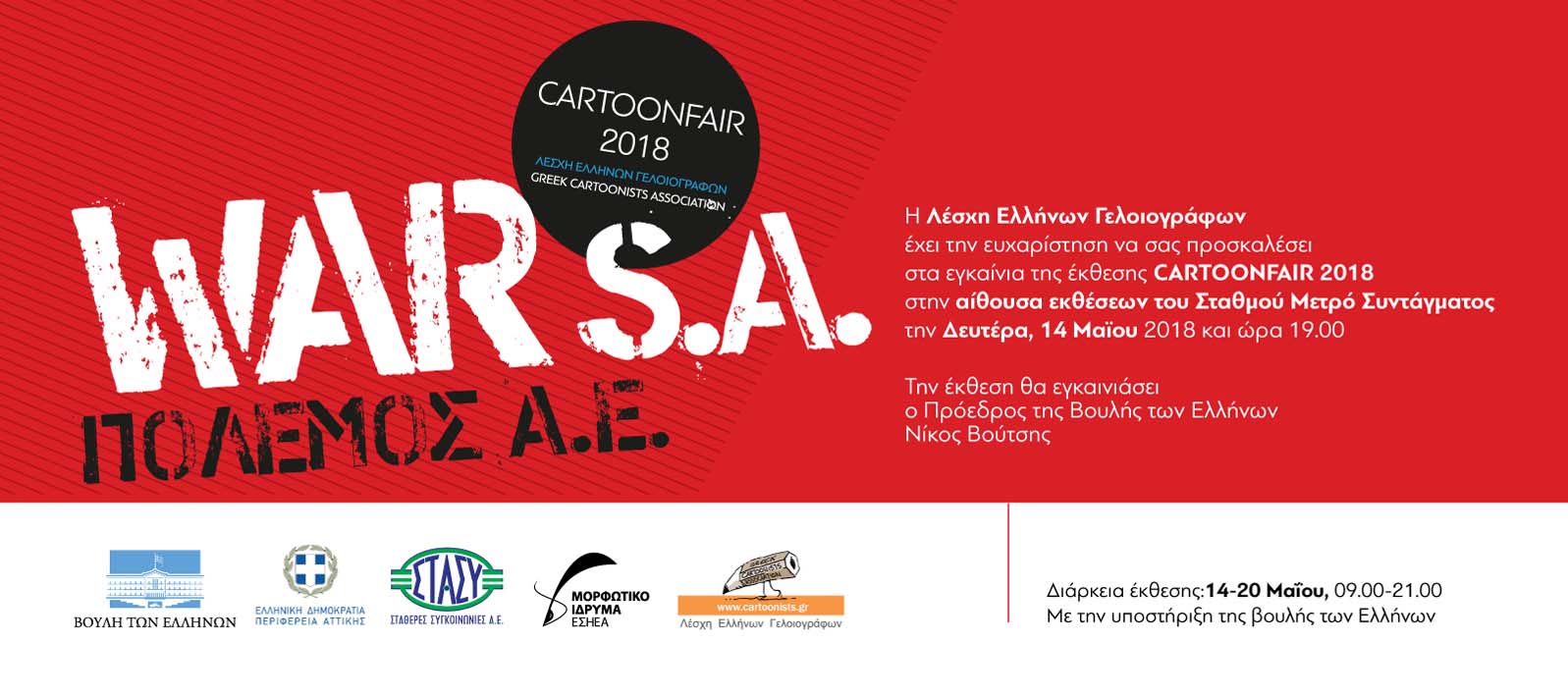 In the very heart of Athens, at the main underground station of the city, at Syntagma square, cartoonists from Greece and Portugal inaugurated an exhibition on Tuesday that will run through to May 20.
The theme is very topical -more so because, although the cartoonists had no idea about the coincidence, it actually did coincide with the ongoing violence in Gaza. Their motto is "Make cartoons, not war" while the exhibition is titled "War S.A.", the third large scale cartoon exhibition held by the Greek Cartoonists Association.
Xinhua wrote that "Visitors to Athens, as well as thousands of commuters passing by the Syntagma metro rail station daily, will be surprised by the inspired full of humor anti-war cartoons."
The 160 works' exhibition was inaugurated by the President of the Greek Parliament, Nikos Voutsis and works are signed by renowned cartoon makers of the Greek Cartoonists Association and their Portuguese colleagues. Works on display are by 32 Greek and 9 Portuguese cartoonists.
"The Greek Cartoonists Association aims to make the exhibition an annual event, with guest cartoonists from a different country every year, hoping to become a meeting point both for cartoonists and their audience.
This year our quests are nine cartoonists from Portugal (ANTÓNIO, CARLOS BRITO, ANDRÉ CARRILHO, CRISTINA SAMPAIO, VASCO GARGALOΣ, JORGE GONÇALVES, MAIA, RODRIGO DE MATOS, CRISTIANO SALGADO), a country of great tradition when it comes to political cartooning.
We chose the theme of war, not being able to turn away, not only from what is happening in our area, but also what is happening in every corner of the earth that is being threatened by the vultures of war. We hope that WAR S.A. will be a peace loving international cry of anguish and support, an illustrated message of friendship of the people against militarism, bombs and death," the statement of the association read.
The 6-day event is held at the Exhibition Hall of Syntagma Metro Station in Athens and  entrance is free…. /
IBNA