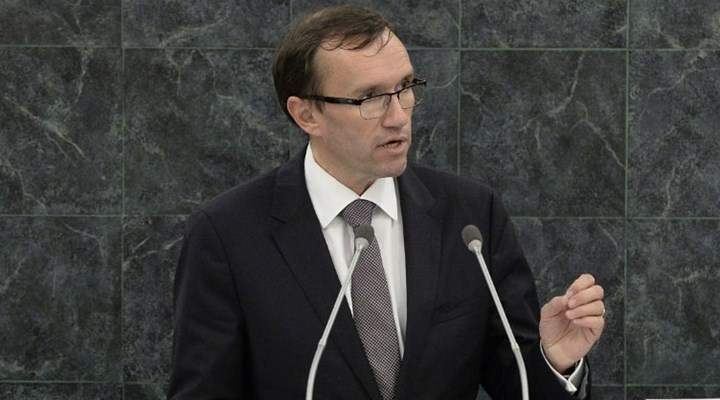 Nicosia, April 8, 2015/ Independent Balkan News Agency
By Kyriakos Kyriacou
UNSG Special Adviser for Cyprus Espen Barth Eide announced Tuesday that UN-backed talks are expected to resume within weeks following the illegal elections in the occupied areas of the island.
Cyprus President Nicos Anastasiades has suspended his participation in the peace talks to reunite the island divided since the 1974 Turkish invasion,  following a Navigational Telex or NAVTEX, issued by Turkey in October last year, as Turkish seismic research vessel "Barbaros" violated the Republic's Exclusive Economic Zone.
The Turkish NAVTEX expired on Monday and Barbaros has left Cyprus` EEZ.
Speaking to the press following separate meetings he had in the morning with President Anastasiades and Turkish Cypriot leader Dervis Eroglu, Eide said that the state of reasons why talks could not happen are gone, at least for the foreseeable future, adding that this makes it possible to prepare for the resumption of talks "in a structured, results oriented and fast manner".
He also added that both leaders have agreed that the circumstances are now right, adding that President Anastasiades has informed him "that he was ready to lift his suspension, or lift the suspension of his participation in the talks and that he looks forward to engage in constructive dialogue with whoever emerges as the Turkish Cypriot leader after `elections` happening in the north".
"It's also very important that, both leaders agreed with me, that when we meet again, we will pick up from where we left. This exact wording was used by both sides and I very much agree with that. We have done substantial preparations for the next round so while we did lose half a year, we also know where we will be starting", he added.
UNSG Special Adviser was not ready to announce an exact date of the resumption of the talks, but he said that the first meeting of the two leaders, will take place within weeks.
"It is a window of opportunity. We do not necessarily talk of deadlines, but the window may not be open forever. It's not me saying that, but that's my strong sense working with key interlocutors internationally and on the island that this country has to find a solution after 41 years. It's possible. We have difficult months ahead, but there is nothing – I repeat nothing – in all the chapters that I know now quite well which I deem as unresolvable" , he said.
The Greek Cypriot side is ready to withdraw its decision to suspend its participation in the UN-led negotiating process, with a view to create the prospects that will allow the settlement of the Cyprus problem, through a substantive and sincere dialogue, on the basis of the joint communique and away from any threats and intimidation, Government Spokesman Nikos Christodoulides said, following the announcement by the UN Secretary General`s Special Adviser on Cyprus.
Christodoulides expressed the belief that conditions today can lead Turkey to realize, by thinking rationally, the benefits of a possible settlement. "We hope that by realizing these benefits Turkey will work towards this direction," he noted.