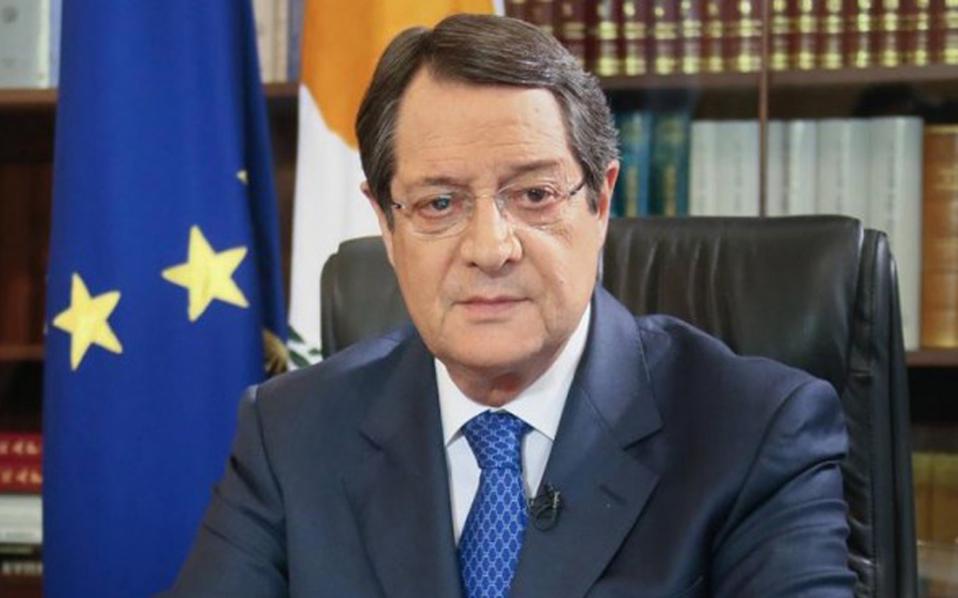 Nicosia, April 23, 2015/ Independent Balkan News Agency
By Kyriacos Kyriacou
President of Cyprus Nicos Anastasiades said Wednesday that the prospects for the Cyprus talks to resume are being created.
He noted that the dialogue must be free from any sort of threats and blackmails and stressed that the Greek Cypriot side is determined to intensify the dialogue.
Anastasiades has suspended his participation in the peace talks to reunite the island divided since the 1974 Turkish invasion,  following a Navigational Telex or NAVTEX, issued by Turkey in October last year, as Turkish seismic research vessel "Barbaros" violated the Republic's Exclusive Economic Zone. The Turkish NAVTEX expired April 6 and Barbaros has left Cyprus` EEZ.
UNSG Special Adviser for Cyprus Espen Barth Eide announced April 7 that UN-backed talks are expected to resume within weeks following the illegal elections in the occupied areas of the island. The `elections`  took place on April 19 and a run off `election` will take place next Sunday.
"We have the will and the determination and if Turkey and our Turkish Cypriot compatriots respond in a similar way then I want to express my optimism that we can reach a solution", Anastasiades said addressing an event at the Presidential Palace on the culture and tradition of the Maronite community of Cyprus.
The Joint Declaration of 11 February 2014, he added, "gave the opportunity to restart a productive dialogue that despite the obstacles that occurred it had created the prospects for the third and final phase to begin on October 9" noting that the developments that followed on October 6 forced the Greek Cypriot side to suspend its participation in the Cyprus talks.
With the Turkish NAVTEX not renewed and the withdrawal of Barbaros "i am glad to say that the prospects for the resumption of the talks are being created" Anastasiades said.
He reiterated that only through a free, meaningful and sincere dialogue, in a spirit of mutual understanding and respect and away from any threats and blackmail, the necessary prospects will be created for the talks to succeed.
"We are determined to intensify the dialogue and with good will and determination to proceed with proposals that will take into account the concerns of the Greek Cypriots and most importantly will not ignore the concerns of the Turkish Cypriots. Our goal is not to find a solution that creates winners and losers" he said.
Cyprus President Nicos  departs on Thursday for Brussels to participate in the Extraordinary meeting of the European Council.
According to an official announcement, the meeting will take place at a request of the Italian Prime Minister after the recent tragic events in the Mediterranean involving the death of hunderds of illegal immigrants.
President Anastasiades will be accompanied by Government Spokesman Nicos Christodoulides.
After the meeting, President Anastasiades will travel from Brussels to Yerevan, Armenia, where on the 24th he will attend the events to mark the 100th anniversary of the Armenian genocide.
The President will return to Cyprus on April 25.