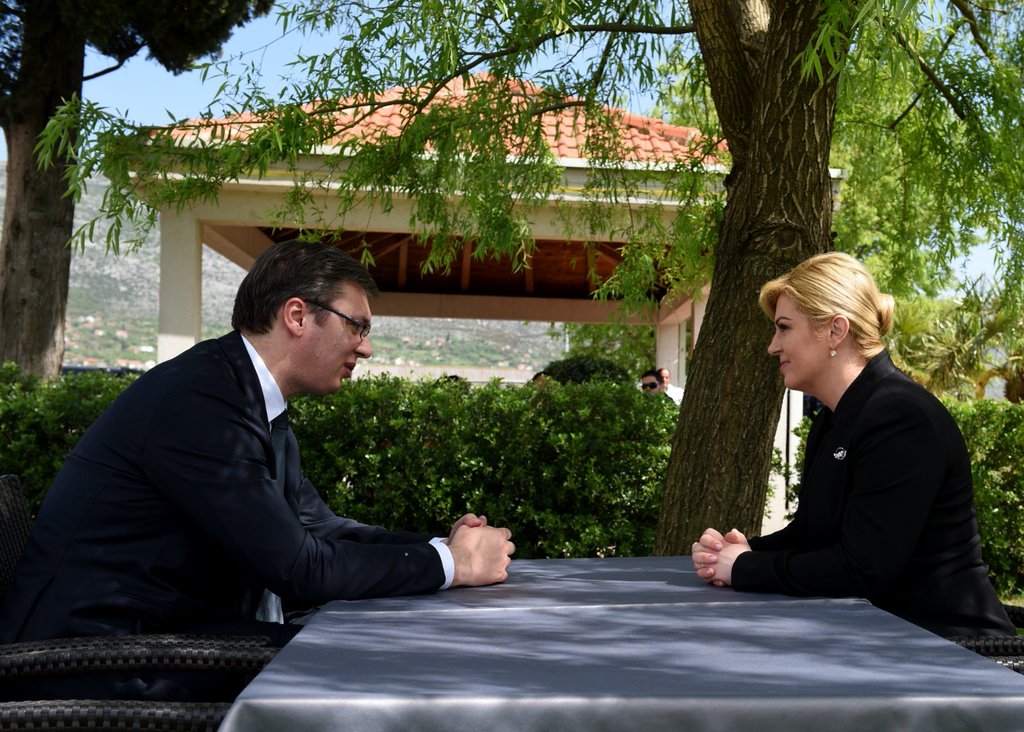 Sarajevo, April 12, 2016/Independent Balkan News Agency
By Mladen Dragojlovic
International fair "Mostar 2016" gathered again the most important politicians, economists and entrepreneurs from the whole region and more.
This traditional event is a good chance for bilateral meetings and the place which all of participants considered as the good location to send messages of peace to citizens in region. For the last several weeks there have been tension between Croatia and Serbia, but Mostar Fair, as it seems, is a good opportunity for the highest officials to meet, in order to solve problems and explain sharp statements expressed in the past. During a brief meeting, as they said, Croatian president Kolinda Grabar Kitarovic and Serbian PM, Aleksandar Vucic, didn't talk about the recent obstacles which Croatia set on Serbian approach to the EU.
"We agreed that it is necessary to develop good neighborly relations", Vucic commented briefly.
Grabar Kitarovic told the media that "relations between two states are not as tense as it appears" and that it is important to continue the discussion about all problems".
"We had elections and rhetoric was harder. I hope that tensions will be calmed and that we will cooperate on security issues", Grabar Kitarovic said.
She added that the countries in the region must cooperate and overcome the differences which exist in these relations. The Croatian president said that it is important to have a high level of respect among all sides and that politicians must act with high level of responsibility.
Similar messages were sent after Vucic's meeting with Bosniak member of BiH Presidency, Bakir Izetbegovic. After the meeting they said that Serb – Bosniak relations are key for the stability in region. Vucic said that discussion wasn't easy, but that it was open and sincere. According to Serbian PM, they concluded to intensify contacts in the future.
"We must talk about our relations and "lower the noise" in order to solve our problems in peace and to try to improve them. Serbs and Bosniaks have common future on the places where they live together for centuries", Vucic said.
Izetbegovic said that the meeting was an opportunity to discuss all issues important for both countries.
"The past was as it was, and we cannot change it. We can have influence on the future and intensify dialog between Serbia and BiH, Izetbegovic said.
Every year, Mostar Fair gather key politicians in region and several other countries. This year the Fair opened its doors on Tuesday, with Turkey as the "partner country".