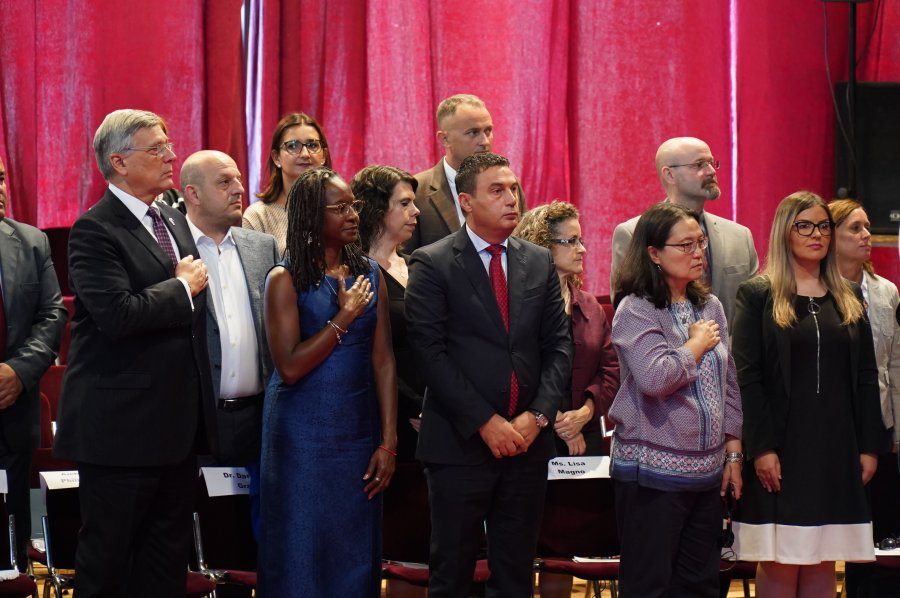 The sixth group of United States Peace Corps volunteers has began its service in Kosovo.
The volunteers of this corps will work for two years mainly in teaching English in high schools in Kosovo.
The commencement of the service of the volunteers of this corps was regarded as an important step towards strengthening the cooperation and recognition between the peoples of Kosovo and the United States.
The ceremony was also attended by US Ambassador to Kosovo Philip Kosnett, who addressing volunteers said that the: United States will continue to support the people of Kosovo on their path to peace, justice and prosperity for all citizens.
"Working with the Peace Corps is one of the greatest pleasures of my service as Ambassador. I first served in Kosovo back in 2003 – before we had a Peace Corps program here. It was exciting to come back last year and find that, since 2014, over 220 Volunteers have served communities throughout Kosovo — bringing energy and enthusiasm, curiosity and knowledge, as well as a willingness to learn as well as teach ", stated Kosnett.
Also present was Minister of Education, Science and Technology Shyqiri Bytyqi, who said that Kosovo is always grateful to the United States for its contribution to the Kosovar people.
Meanwhile, Peace Corps Director in Kosovo Darlene Grant, addressing the volunteers, said they are contributing here to make the world a better place.
"Volunteers will serve for 24 months without pay, living with local families, eating the same food, going on the same buses, trying to be the best citizens with their local community. For our Peace Corps volunteers, the Peace Corps is a teaching service, it is revealing and it is also a discovery of mutual understanding, especially to understand what makes us similar, despite what makes us different. I believe that this Peace Corps service is one of the most important decisions of your life, to come here, to leave your families, friends, to serve here", she said.
Meanwhile, program and training director Karen Scheuerer said the Peace Corps service is a magical experience that opens the heart and mind to new opportunities./ibna