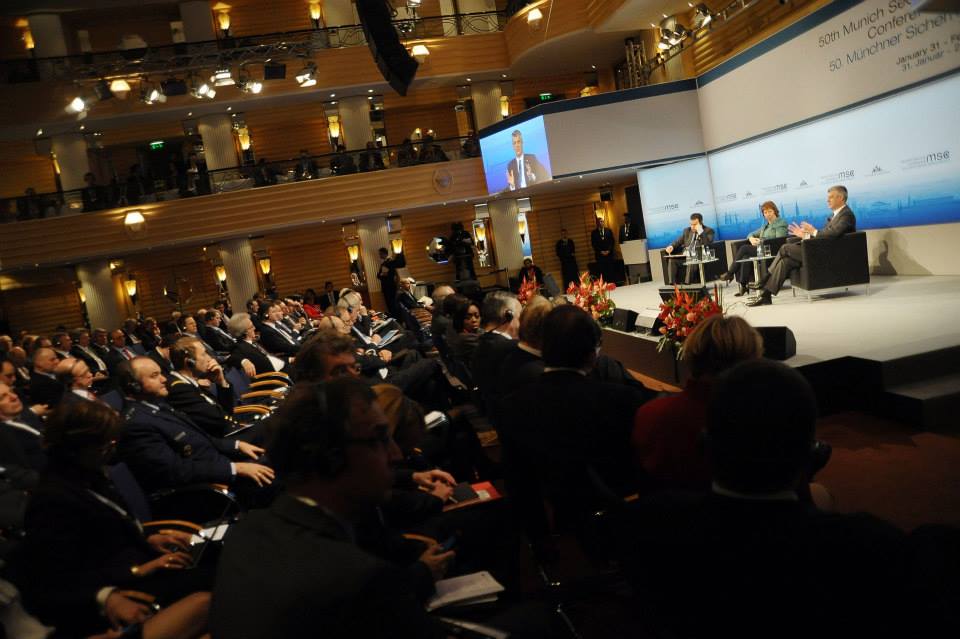 IBNA Special Report/Prime Minister of Kosovo, Hashim Thaci and that of Serbia, Ivica Dacic have been the two main guests in the 50th Jubilary Security Conference in Munich. The success of talks which has led to a more stable situation in the Balkan has attracted the attention of many world leaders, who addressed the panel which included Baroness Catherine Ashton, Prime Minister of Kosovo and that of Serbia
Conference on Security has been held in Munich, Germany. This is considered as an important forum of world politics and this year, it celebrates its 50th anniversary.
Amongst the guests in the panel were the prime ministers of Kosovo, Hashim Thaci, that of Serbia, Ivica Dacic (photo). Both of them came up with the same declaration: The process of talks for the normalization of relations between the two countries has brought benefits to both sides. Therefore, both Thaci and Dacic expressed their commitment for this process to continue.
During a debate in the framework of the Munich conference on security, they said that they had agreed in building a motorway linking Pristina and Belgrade, a project which is expected to be funded by the European Union. It's the EU which is also brokering the process of talks between Kosovo and Serbia.
The past must give way to the future
The Prime Minister of the Republic of Kosovo, Hashim Thaci delivered a speech in the Munich Security Conference. In front of a public comprised of world leaders, European foreign ministers, senators, MPs, global media and military leaders, Mr. Thaci put forward several theses in the debate with Baroness Ashton and Prime Minister Dacic, specially hosted to mark a historical success in dialogue: "Peace is not achieved by evoking motions of the past. Mutual cooperation between Kosovo and Serbia is emotionally difficult, but it's politically and practically achievable", declared Mr. Thaci.
He added that "the bitter facts of a conflict lasting over a century are grave, but the arguments of the future are more powerful in achieving peace".
More popularity, but damaging
Prime Minister Thaci also declared that he and Mr. Dacic, "would earn lots of applause in our capitals if we didn't reach this agreement".
"There's a conviction that in Serbia, Kosovo and elsewhere that the Serbis and Albanians are "organic" enemies and that they can never cooperate. I don't believe in this logic. The conflict has caused a gap and hatred, but I believe in good neighborly relations between Serbs and Albanians", says Mr. Thaci.
According to him, "accord doesn't only consists on making concessions, but also on reflection for understanding and mutual respect". "Any agreement in a process of peace is harder than the start of a conflict", says prime minister Thaci.
The Kosovar leader added that the highest European values are the basis of dialogue between the two states.
Kosovo has now been known as an independent state by 105 countries. The government soon plans to contribute in the NATO activities.
Mr. Thaci says that once Kosovo Security Forces overcome the transition process, even Kosovo may play a role of an export of resources and military experience in the peace keeping processes and processes of state formation in different regions of the world. /ibna/