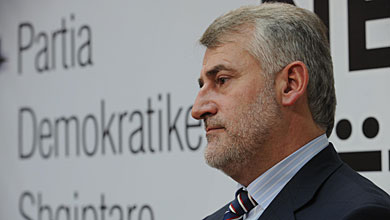 Skopje, September 23, 2013
Albanian Democratic Party (PDSH) wants to shed light upon the orders and documents that relate to the prosecution of the leader of this political party, Menduh Thaci by the secret services.
"The latest case of the lustration of the former minister of interior, Tomislav Cokrevski, for which the commission came to the conclusion that he has ordered prosecution of VMRO, the commission has forgotten about the documented prosecution of the activities of PDSH at that time, in particular of its leader Menduh Thaci", declared Miat Sadiky, vice chairman of PDSH.
Sadiku said that for the sake of transparency, PDSH demands to the commission the order issued by the former minister of interior for the prosecution and drafting of Thaci's prosecution case.
PDSH says that the commission for lustration in FYROM is increasingly making a selective approach in its work. /ibna/