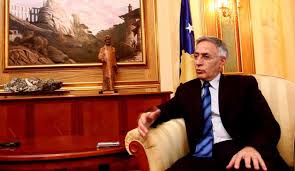 Pristina, September 23, 2013
Current speaker of parliament, Jakup Krasniqi is expected to found a new political party. This will divide PDK and lead to the creation of a new parliamentary group with its MPs.
So far, the MPs who are expected to be part of this group are: Jakup Krasniqi, Fatmir Limaj, Hydajet Hyseni, Flora Brovina, Justina Pula-Shiroka, Muhamet Mustafa and Emin Gerbeshi.
The name of the new party is expected to be Democratic Renaissance of Kosovo.
Since the start of the year, there have been rumors according to which Krasniqi and Limaj would found this new party. Since his release from house arrest, Limaj has met with many members of his electorate, while Krasniqi has often talked about the need to form a new party. /ibna/