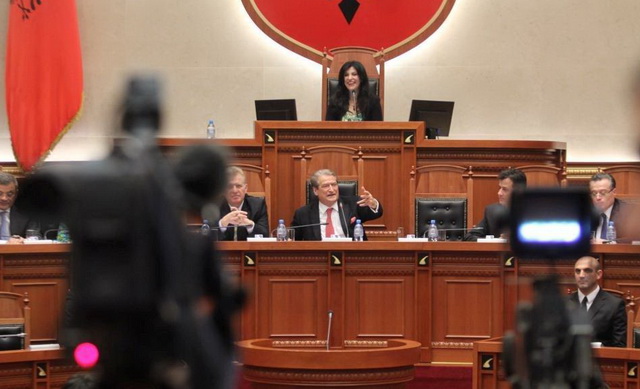 Tirana, April 4, 2013
With 72 votes in favor, the Albanian Parliament passed today the presidential decrees that, at PM Berisha's proposal, dismiss SMI ministers and the appointment of DP names in their stead.
Aldo Bumçi's nomination for the Foreign Minister's position received 72 votes in favor, 3 against and 59 abstentions. Myqerem Tafaj, the current Minister of Education and Science, was also confirmed Deputy PM with 72 votes in favor. Florjon Mima, the new Minister of Economy received the same number of votes in favor, 72. Visar Zhiti, the well-known author, was confirmed as Minister of Culture with 72 votes in favor, 57 against and 4 abstentions. Reportedly, the two MPs who just recently announced their departure from SP, Asllan Dogjani and Gjovalin Kadeli, voted in favor of the new ministers.
Following the vote, PM Berisha stated: "Deep gratitude for this historical vote through which you overturned Edi Rama's primitive tactics to lead toward a technical government; these efforts totally failed. SP gentlemen, you started this as a minority, you are leaving as a minority and you will return as a minority. Congratulations!" /ibna/