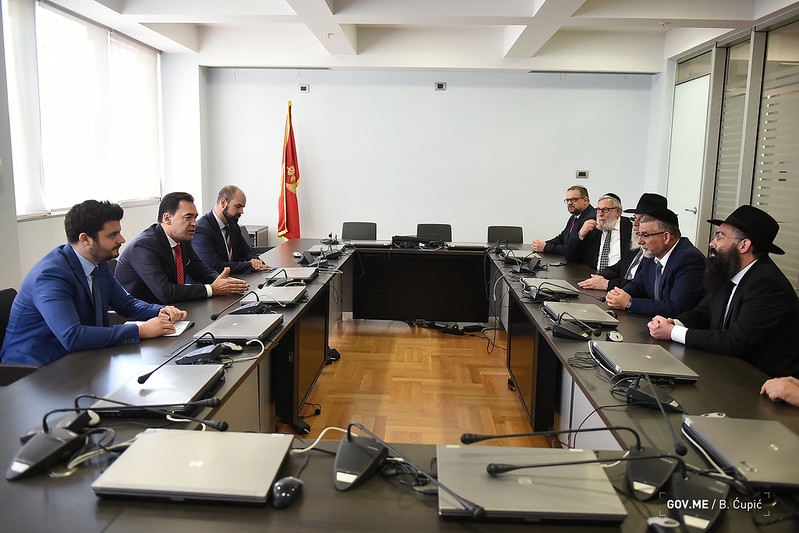 Montenegro, which is strongly grounded in the values of anti-fascism and respect for religious and ethnic diversity, is proud of its traditional friendship with the Jewish people and excellent cooperation with the State of Israel, Montenegro Deputy Prime Minister Zoran Pažin underscored at a meeting with Minister of Religious Services of Israel Yitzhak Vaknin in Podgorica.
The Deputy Prime Minister said that any destructive idea that promotes religious and national intolerance and hatred cannot find a foothold in Montenegro.
DPM Pažin particularly thanked the Jewish Community in Montenegro for its constructive contribution to the drafting of new legislation on freedom of religion, noting that no outstanding issues were raised during the communication on the Draft Law on Freedom of Religion with the Jewish Community.
He said that Montenegro is honoured to have been selected to host the MAHAR Conference, the most important forum of Jewish communities and organszations in Southeast Europe that has opened in Budva.
Minister Vaknin expressed his gratitude to the Montenegrin Government and the entire Montenegrin society for their sincere friendship with the Jewish people, as well as for their support and commitment to the common values ​​of peace, tolerance and cooperation between peoples and states.
The Israeli Minister paid tribute to Montenegro for building a society based on religious and national tolerance and respect, stressing that Montenegro sets an example to many countries in Europe with its honest respect for these values.
He also emphasised Israel's willingness to share with Montenegro its advanced technological knowledge and to intensify economic cooperation, especially in the context of the application of new technologies and innovations in different sectors of the economy.
Besides Minister Vaknin, the meeting was also attended by President of the Jewish Community of Montenegro Đorđe Raičević, Chief Rabbi of Montenegro Ari Edelkopf, Rabbis Simcha and Goldberg, as well as representative of the Euro-Asian Jewish Congress Shaim Blechman./ibna