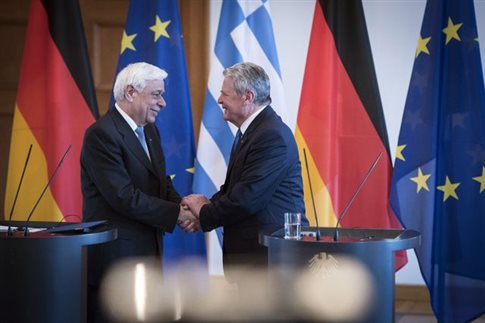 Athens, January 20, 2016/Independent Balkan News Agency
By Spiros Sideris
"I did not come here with an outstretched hand", stressed the President of Greece Prokopis Pavlopoulos, referring to his visit to Berlin and reiterated that Greece will fulfill all its commitments.
As regards his role, he stated his support for the country's effort, battling with the pro-European forces."I strive for the country, as is required by my role, and towards this struggle we fight with all pro-European forces of the country", Pavlopoulos said after the completion of his contacts in Berlin and shortly before going to Frankfurt, where he met with the President of the ECB, Mario Draghi, to whom he is expected to reiterate that after the completion of the evaluation, "it will be the time of the partners" – That is, the ECB should review the issue of the integration of Greek bonds to the quantitative easing programme.
Greece declares its support to the ECB's efforts to play the role of a real central bank, in particular as regards liquidity programs, Pavlopoulos said.
Referring to his meetings with German officials, the President highlighted the issue of the EU's cohesion, which, he said, it is not about the currency, but man.
"A true European is not he who can withstand the fiscal budgetary discipline, but he who can tackle a structural problem on the basis of European values", Pavlopoulos stressed and added that the Greek people teach humanism in the face of phenomena that could jeopardize Europe.
Responding to a question about whether the enlargement of the EU eastwards has been vindicated, said: "I wish it to prove she is vindicated, but right now it seems the opposite. Germany knows today what are its real allies in Europe".
He added that the Member State does not fulfill his obligations should suffer the appropriate penalties. The same also happened recently with Greece, he said.