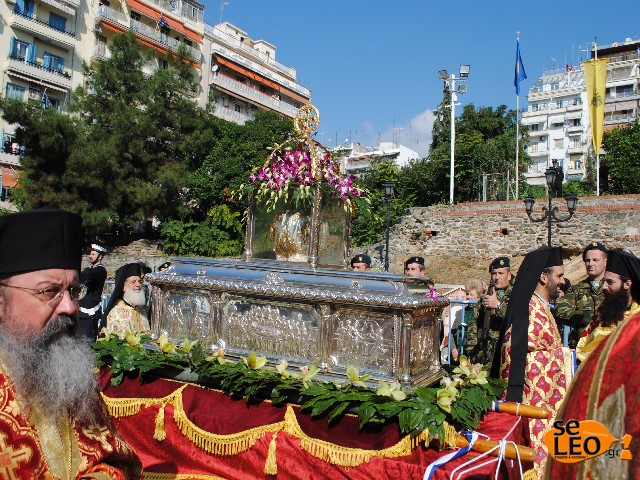 Athens, October 27, 2015/Independent Balkan News Agency
By Haris Stefanatos
With the procession of the icon of St. Demetrius, his relics and the image of the Virgin of Eleousa, in the presence of a big crowd, started the celebrations in Thessaloniki for the name day of the patron Saint Demetrios, the liberation of the city and the national anniversary of "NO", in the presence President of the Republic Prokopis Pavlopoulos.
The Greek President emphasised the "self-evident and obvious" Greekness of Macedonia, in his statements after the doxology at the Church of St. Demetrius in Thessaloniki, making reference to the two teachings of the Saint, which are more topical than ever.
The entire statement by President of the Republic is as follows:
"The Macedonian and citizen of Thessaloniki Agios Dimitrios, one of the most glorious and popular Saints of the Orthodox Church has always taught and teaches in many ways with his life, his torment and later memory. Two lessons are today more than ever relevant to Hellenism, and not only:
First, the lesson of the self-evident and, therefore, implicit Greekness of Macedonia. Which the roof of St. Demetrius protects, over time, especially against the Slavs as early as the 6th century AD. With culmination of this protection the liberation of Thessaloniki during the Balkan Wars 1912-1913, on the day of the celebration of his memory.
And secondly, the lesson of "in the interim stage", after the blessing of the imprisoned Saint Dimitrios victory of Nestor against Lyaios. A lesson that inspires our Nation not to calculate the size of the force, but have faith in its ideals and the sacrifice in defence of the Fatherland. Long live Thessaloniki, the eternal capital of Macedonia".
The President arrived at the Church of St. Demetrius a few minutes after 11, where the crowd that had gathered outside the church applauded him. A contingent of the Military School of Officers gave him values ​​and sang the national anthem.