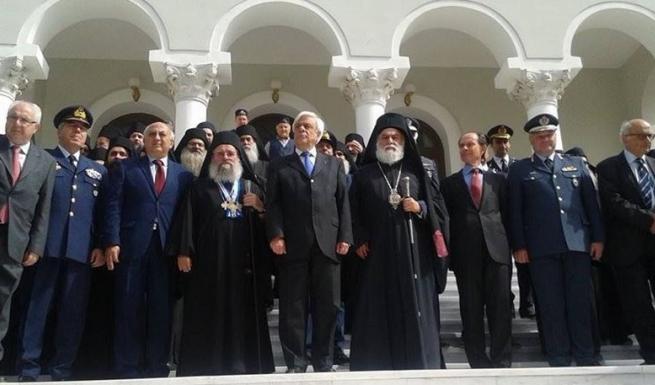 Athens, May 13, 2016/ Independent Balkan News Agency
By Spiros Sideris
The President of the Hellenic Republic, Prokopis Pavlopoulos, visited Mount Athos on Thursday.
In his speech at the Church of Protatos in Karies, he stressed – inter alia – that the Hellenic Republic has an obligation to protect the Holy Place of Mount Athos, maintain its unaltered character and its future course.
In his first visit to the region since his election as President of the Republic, Mr. Pavlopoulos also noted that all Greeks are proud of the fact that Mount Athos is part our country and expressed joy and expectation that the meeting and fellowship will contribute even more to the growing of a spirit of togetherness and immediacy.
In the text of the President's address, it is stressed, inter alia:
"I thank you warmly for the reception bestowed on me and the emotional presence and Your participation in it. All Greeks feel proud because our homeland includes the blessed Peninsula of Athos.
The enormous and priceless heritage of this unique cultural center in the whole world, which is demonstrated by the fact that since 1988, Mount Athos is on the list of World Heritage of UNESCO, continues and expands thanks to Your own provision and efforts. You are worthy of praise and congratulations. I recall that the late Ecumenical Patriarch Athenagoras, in his speech at the Church of Protaton in 1963, during the celebration of the first Golden Millennium of Athonite Monasticism, stressed: "The residents today in Mount Athos are a continuation of Genuine Orthodox religious life."
The Hellenic Republic, in which Mount Athos is included, has an obligation to protect the Holy Place, to maintain its unaltered nature and its future course. Our presence here, in an area which sanctifies the ceaseless ministry of brilliant Brotherhoods and Residents, fills us with joy and hope that today's meeting and interaction will contribute even more to the growing of a spirit of togetherness and immediacy. "