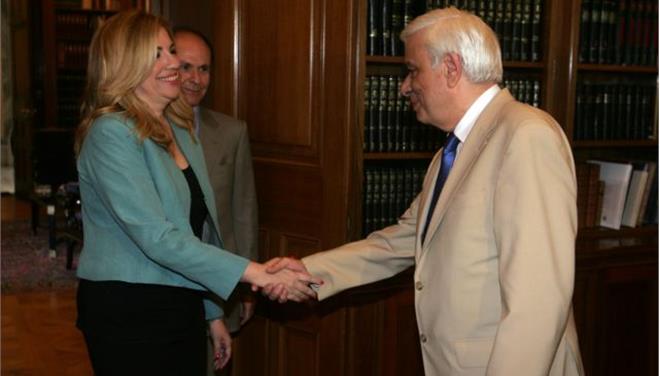 Athens, June 17, 2015/ Independent Balkan News Agency
By Spiros Sideris
The need for a united national front to ensure the country's path to Europe and the eurozone, noted once again the President of the Greek Republic, Prokopis Pavlopoulos, during his meeting at noon with the new President of PASOK Fofi Genimmata.
"I know that my role, also because of my election and the majority of the Parliament who elected to ensure the country's path to Europe and the eurozone". And, moreover, that in front of this goal there must be a united internal front from all democratic forces. There can be no petty perceptions and much more friction, in front of the achievement of such an objective. And I am determined within my responsibilities and touching the limits of my competence, to make sure this mission is successful", Prokopis Pavlopoulos added meaningfully.
For her part, Gennimata who received the congratulations of the President of the Republic for her election, said during the short dialogue she had with Pavlopoulos that her own priority is, beyond the restructuring of the Center-Left, the undertaking of the initiative for national understanding "so that we can provide solutions that will not be recessionary, which would ensure perspective for the country, will relieve people who have made so many sacrifices and can't feel constantly that in front of them there is a dead end".