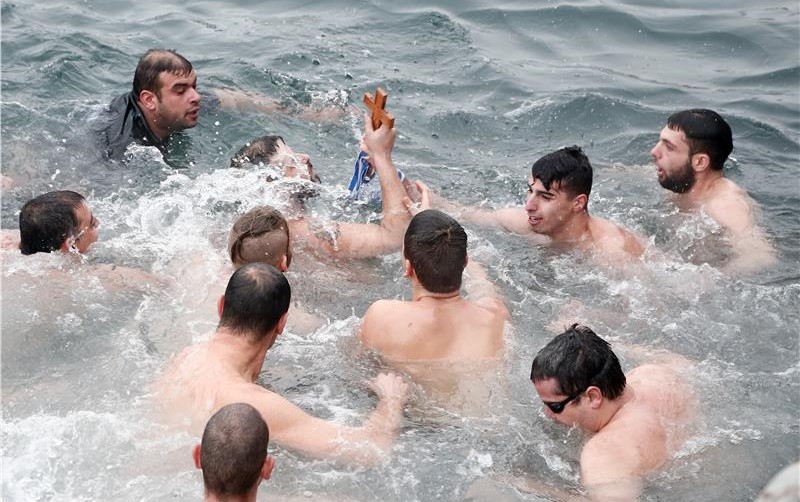 Athens, January 7, 2016/Independent Balkan News Agency
By Spiros Sideris
With solemnity and pomp were celebrated in Greece the Holy Epiphany, the major celebration of Orthodoxy, which essentially closes the festive season of Christmas and New Year.
In the presence of political and state leadership took place throughout Greece the consecration of the waters, followed by statements both by the GReek President and by the Prime Minister and political leaders.
"Let the light dispel the darkness of poverty and deprivation" was the message of the President of the Republic, Prokopis Pavlopoulos who attended the Divine Liturgy held in St. Dionysius Areopagite in Kolonaki.
"Let the everlasting Light of Christianity, the Light of Love, reconciliation, solidarity and humanity dispel the darkness that threatens democracy and civilization in our country, in Europe and around the planet", Pavlopoulos said, in the blessing ceremony of the water tank in Athens, in Kolonaki.
"And especially in our country, let the Light of Christianity dispel the darkness of the crisis and the poverty afflicting our society and especially our financially weaker fellow men and the young generation. Happy birthday", he added.
The ceremony was also attended by both the prime minister, Alexis Tsipras, and the president of PASOK, Fofi Genimmata. The PM withdrew after the ceremony without making statements, while he didn't fail to congratulate the president of PASOK Fofi Genimmata for her name day.
"I wish to enlighten our everyday life with optimism, hope and confidence for the future of the country and of our children. To revamp the relationship between politics and the citizen. Less big words to achieve more", was Genimmata's message.
From Agios Nikolaos, the interim president of ND, Yannis Plakiotakis said that "today is a great day for Orthodoxy and Hellenism" and wished "the Holy Spirit illuminates the steps of all of us and to forge the unity of our nation, to face the challenges of the times".
In Thessaloniki, Apostolos Tzitzikostas and Kyriakos Mitsotakis were side by side in the event for the celebration of Epiphany. "Today is a great day for Orthodoxy. I want to wish everyone Merry Christmas, Happy New Year and the Holy Spirit to give us all strength and sound judgment", Mitsotakis said.
"One can not do it alone, we must all stand together", said Vassilis Leventis after the ceremony of sanctification of water in Piraeus.
The spokeswoman of ANEL, Marina Chrysovelonis said: "Today is an important day for Orthodoxy, a glorious celebration of Hellenism. Let the Light of Epiphany enlighten us all for the good of our country.
This day provides each of us the opportunity to meditate, to illuminate and to be baptised anew with everything that make our life more humane, more creative, more optimistic.
Today, in the celebration of the Blessing of the Waters, let's think about the sailors, traveling far from our country, those who serve in the Merchant Navy, but also the staff of the Navy and Coast Guard.
Happy birthday, enlightenment and good health to all Greeks and prosperity to our country".