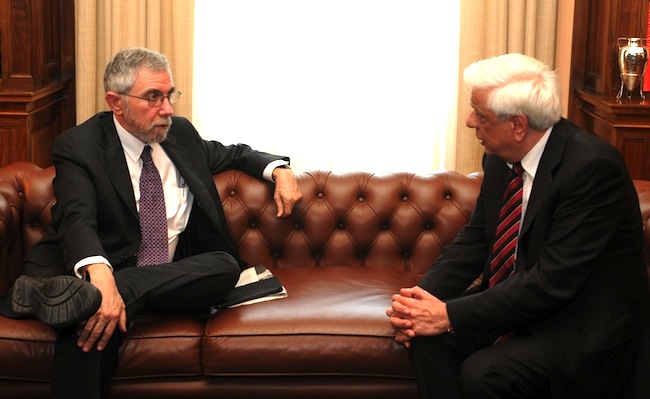 Athens, April 20, 2015/ Independent Balkan News Agency
By Spiros Sideris
Greece will remain in the European Union and the Eurozone, said on noon Saturday the Greek President Prokopis Pavlopoulos welcoming Paul Krugman in the presidential mansion.
"Greece is oriented towards staying in Europe and the Eurozone. It will stay in the Eurozone and the positions and your views, especially in your last book "End recession now", helps us to modify specific parts of the program, which has been imposed on us, with our partners, so that with these changes to finally be able to return to the markets and to ensure the developmental prospects of the greek economy", Pavlopoulos said.
The Greek President also noted that Krugman, with all his work has "refuted the myth of the so-called 'developmental austerity'" and pointed out that thanks to him for the most part, "it has been proven that the austerity policy undermines development and the institutions".
"Unfortunately, this policy increases inequalities and does not ensure a sustainable development in the global economy and the Eurozone itself", Pavlopoulos said.
For his part, the famous economist told Prokopis Pavlopoulos that both America and Europe are at a turning point.
"But we are at a turning point both here and in Europe. They are moves in the right direction and I think there is an opportunity, there is a chance to move forward at last. And I certainly endorse and applaud your overall work  and the hard efforts that have been done so far", he said.
Krugman later visited the Maximus mansion and met with Alexis Tsipras to who he said the phrase: "I do not envy your job".