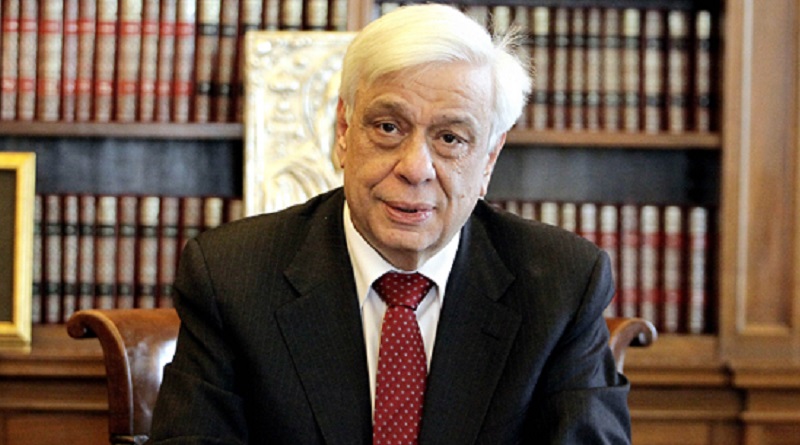 Greece must defend Cyprus, its sovereignty and the liberation of its territories, President of the Hellenic Republic Prokopis Pavlopoulos said on Thursday, during a dinner held at the Monastery of Aghios Dionysios on the island of Zakynthos, which was also attended by the Archbishop of Cyprus.
"Whatever we do for Cyprus, we do not only for the island but also because it is a member of the European Union. A reduction of Cyprus' sovereignty means a reduction of EU sovereignty and this is in no way acceptable," the president added.
Earlier, Pavlopoulos had noted that solidarity was "the foundation upon which our common European building is based" and that, without solidarity, "Europe cannot go ahead."
"The role of Europe is not limited to its peoples. The role of real Europe, as envisioned by its founders, is universal. And this role is not about economic power, it is not about military power. Europe was not built to become the world's most powerful economic or military power. It was made to teach, through the example of its peoples and its culture, that people are at the centre… And that the principles of humanity are the ones to prevail," he added.
Pavlopoulos said that Greece remains committed to its European course, while noting that Europe must serve the principles of peace, freedom, democracy and justice, especially social justice.
The president continued his visit to the island by taking a 40-minute flight with a fire brigade helicopter above the areas burnt in recent fires, accompany by Justice Minister Stavros Kontonis, who is an MP for Zakynthos, the Ionian Islands Regional governor Theodoros Galiatsatos and Fire Brigade Chief Lieutenant General Vassilios Kapelios.
After the flight and the briefing, Pavlopoulos thanked the men and women of the fire brigade for their efforts and "proving that the fire brigade does its duty in a way that exceeds even its own capability." The president then attended a meeting to discuss the destructive fires at the regional authority and will conclude his visit to Zakynthos on Thursday evening, when he will attend a procession carrying the relic of Aghios Dionysios through the main town./IBNA