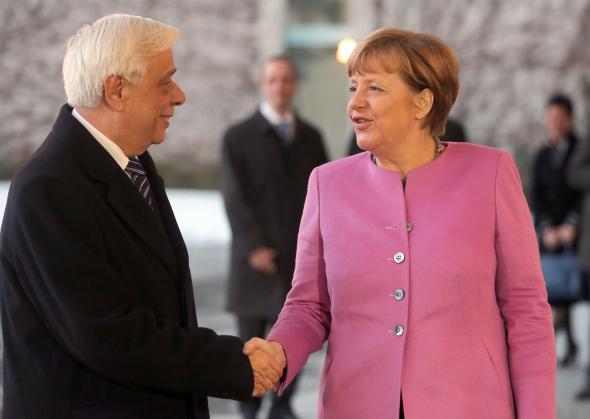 Athens, January 19, 2016/Independent Balkan News Agency
By Olga Mavrou
The President of the Greek Republic Prokopis Pavlopoulos (visiting Germany) in a public speech after meeting with his counterpart Joachim Gauck and Angela Merkel said:
"Greeks will fulfil their commitments in order to remain in the European family. But then it's our partners' turn to proceed to the necessary corrections. Especially as far as it regards the sustainability of Greece's public debt and the so far, extremely dubious, austerity policy. We have to try to establish some mutual understanding despite some initial mistakes, obsessions and misconceptions".
He also made a reference to the past, saying "it was brave of the German President  to apologize for the Nazi crimes, which did not represent the German people" and also mentioned that "we consider legally enforceable certain financial requirements concerning the forced occupation loan, but this is not going to be a unilateral procedure, we believe it should be discussed bilaterally".
As regards the refugee crisis, he stressed the fact that it is a pan European problem. He said that guarding the frontiers of Europe is a duty and that Frontex is welcomed, under the guidance of the Greek state. He also stressed the fact that many things remain to be done in guarding the frontiers, "but patrolling them along with the Turks is out of the question".