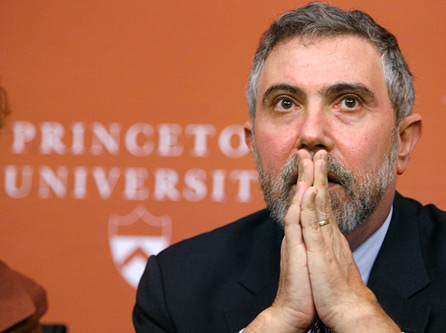 Athens, June 29, 2015/ Independent Balkan News Agency
By Spiros Sideris
The American economist takes on Institutions who in his opinion have pushed things to extremes and declares that the Prime Minister does the right thing by referring the question to the people in a referendum.
In an article in the New York Times entitled "The moment of truth for Europe" the American economist Paul Krugman advocates a referendum in Greece.
"Until now all the warnings about the upcoming split of the euro proved wrong" he notes. "Governments, whatever they said during the election period, succumbed to Troika's demands. Meanwhile, the ECB intervened to calm the markets. This procedure maintained the cohesion of the single currency, but perpetuated a deeply destructive austerity".
"It seems to me that the troika (…) expected or at least hoped, that Greece would be a repeat of this story", Krugman continues.
However, says the American economist, the Greek prime minister now appears to deny committing to the same mistake. "Faced with Troika's ultimatum he decided to hold a referendum on whether the country would have to accept", Krugman says, and despite the fact that the Greek Prime Minister received a lot of criticism for his decision, "he is actually doing it right thing for two reasons".
"First, if he wins the referendum, the Greek government will be strengthen by the democratic legitimacy, which, I believe, still has importance in Europe. (And if not, we should know)", says Krugman.
"Second, until now SYRIZA was in a difficult position politically, with voters angry at the same time against the ever greater demands for austerity and (as the same time) not willing to leave the euro. It was always difficult to imagine how to combine these desires and it is even harder now. The referendum will actually ask voters to decide what their priority is and will give Tsipras the mandate to do what is needed if the troika goes to extremes", he continues.
"If you ask me, it was an act of huge craze on the part of the creditors' governments and institutions to push things at this point. But they did and I can't blame Tsipras for turning to voters instead of turning to them (institutions)", concludes the article by Paul Krugman.