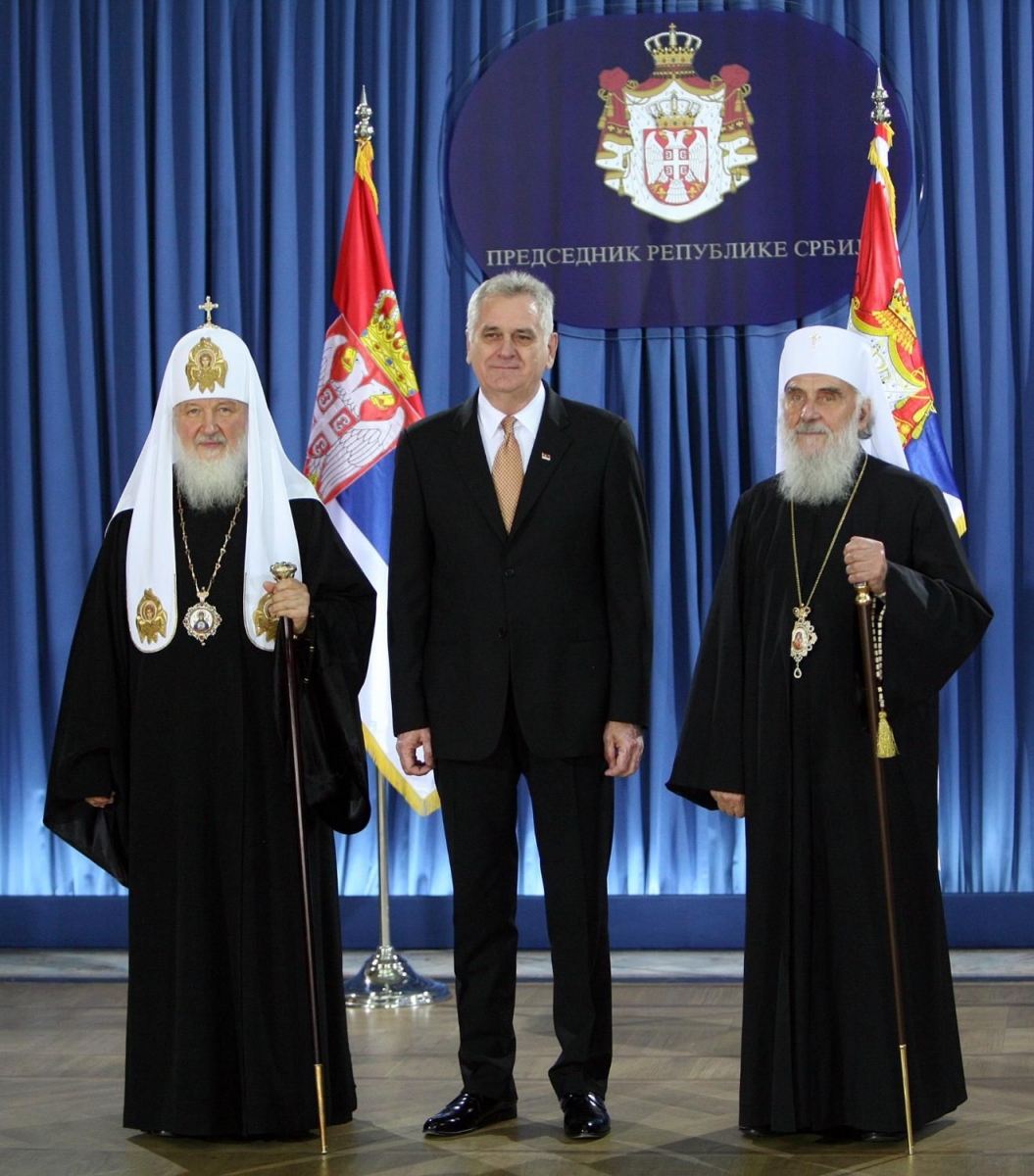 By Milos Mitrovic – Belgrade
Russian Orthodox Church Patriarch said on Friday in Belgrade after meeting with President TomislavNikolic that Russia and Serbia "are linked by history, religion and blood". He started his three day visit to Serbia. Patriarch stressed that "Russia's hearth has always been with Serbia".
At the Belgrade airport Patriarch Kirill was welcomed by Foreign Minister IvicaDacic and Serbian Orthodox Church Patriarch Irinej who said that the visit of his Russian counterpart to Serbia "is considered by both Church and the people as the great festivity".
Russian church head has expressed his hope that his meetings in Belgrade would help improving the relations of Russia and Serbia. "In recent times we (Russians) have also been with Serbian people, when you were faced with bombing and now we are concerned with the situation with Serb population in Kosovo and Metohija (KiM)… We hope that, in the end, peace and justice will come toKiM".
Patriarch Irinej said that he wishes Patriarch Kirill to feel in Serbia like at home.
"We are two brotherly people with the same blood and same religion. Our (Serbia's) hopes have always been directed to Russia, both imperial and contemporary Russia. And she (Russia) would always come when we needed it most". Irinej concluded.
Prime Minister AleksandarVucic also met Russian Patriarch. "The meeting that tackled improving cooperation between two churches and states, was marked by cordial and friendly atmosphere", Radio Television of Serbia reported.
Vucic expressed his gratitude to Patriarch Kirill for the donation – "ordered by President Vladimir Putin" – for completing the interior decorating in Belgrade's Saint Sava Cathedral.
Belgrade University granted Russian Patriarch status of the honorary PhD due to his extraordinary contribution in developing theological education.