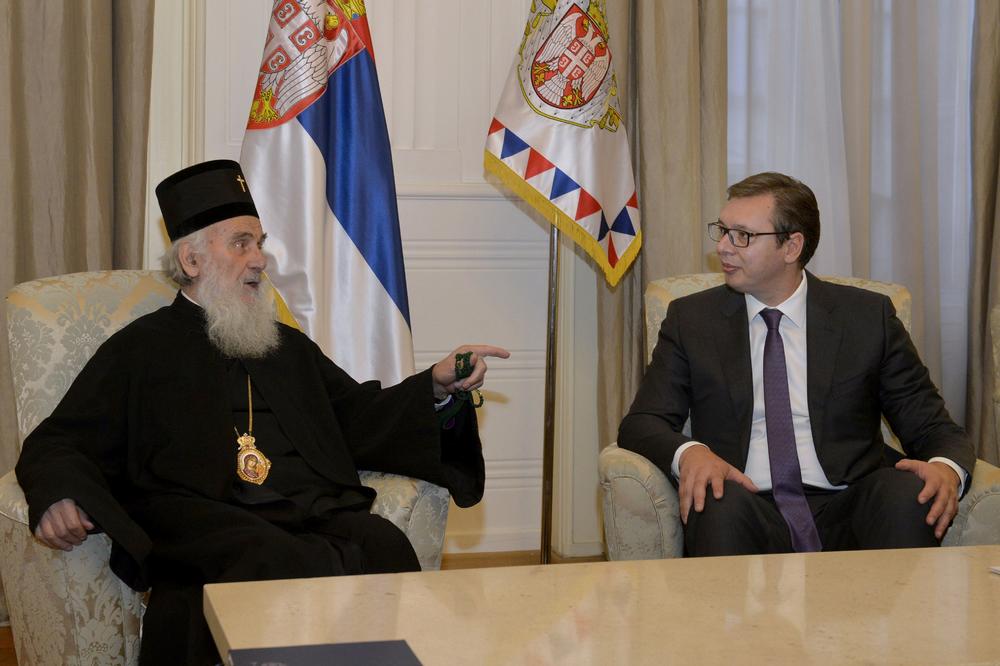 Months after he had said that Serbian president Aleksandar Vucic "fights like lion" to maintain Kosovo as (a) part of Serbia, patriarch of the Serbian Orthodox Church (SPC) Irinej reiterated his comment. Irinej was criticised by members of the SPC clergy as well as by the opposition and some media outlets because of his initial statement-view.
"Still, I do believe that president Aleksandar Vucic fights for Kosovo and Metohija like a lion, under unequal circumstances which are unprecedented", the patriarch underlined in an interview with state-owned Vecernje novosti daily.
The high profile cleric's statement comes at a time when Vucic complains that his "land swap" plan was rebuffed by his own people. "His (Vucic's) repeated statements that he would not impose his will and a possible solution, but would rather respect the freely expressed will of the people… offer hope and comfort", he said.
Despite of Vucic being publicly praised, Irinej underlined that the church "has the right, and more importantly, the duty to stress… the eternal values, although, its character does not dictate it should make state and political decisions". Vucic's plan over a territory exchange has been heavily criticised by a number of clerics who belong to the SPC, including some bishops.
The Serbian patriarch has said that the SPC opts neither for a frozen conflict, nor for "recognising the fait accompli which has been reached due to injustices, aggression, violence and crimes". Instant or provisional solutions should not be accepted, he added. "We cannot and must not give what was ours for centuries neither should we give what has never belonged to the Albanian state, regardless of the fact that it is now stolen and under foreign occupation", Irinej said referring to Kosovo and Metohija.
He underlined that the SPC are unanimous on this one.
Irinej also stated that "the main problem of Serbia are not our neighbours, the Albanians", but rather the "developed Europe and the West in general that do not deal with resolving the crisis and overcoming conflicts"; "they are dealing with their eternal interests".
He suggested that the European Union is not actually "very eager" to accept Serbia as its new member. And that is "because of our friendship with Russia, and (EU's) internal reasons of theirs; "they keep making new preconditions all the time and demand from us to accept their solution over Kosovo and Metohija", the Serbian patriarch concluded…. / IBNA
Main Photo (File): The 45th Patriarch of the Serbian Orthodox Church, Irinej with the President of Serbia, Aleksandar Vucic