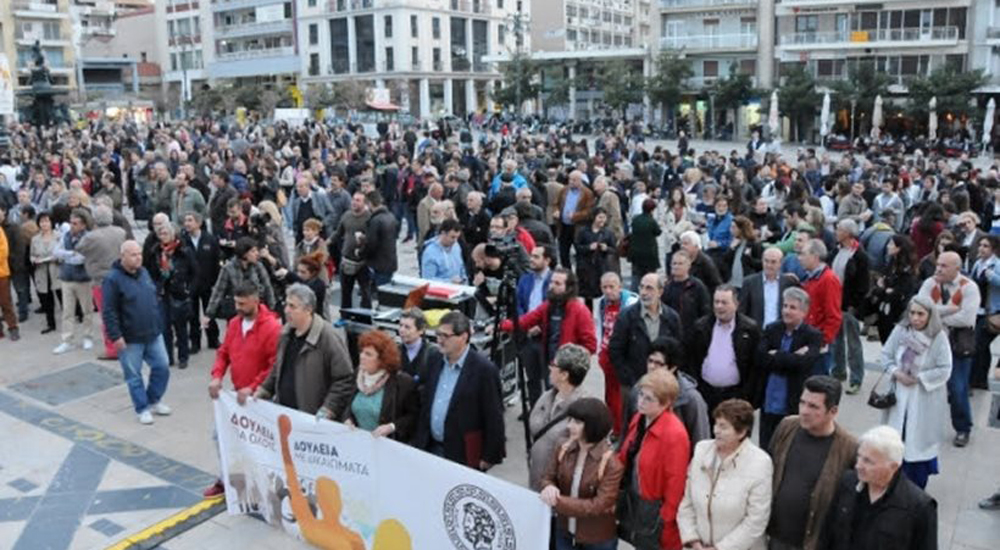 Athens, April 4, 2016/Independent Balkan News Agency
By Spiros Sideris
Shortly before 9:30 am on Sunday began the march, organized by the Municipality of Patra, from Patra to Athens, in order to demand and the implementation of measures against unemployment.
the head of the march, which started from Georgiou Square, is the mayor of Patras Kostas Peletidis, with the participation of deputy mayors, heads of municipal factions, councilors, representatives of institutions, associations, unions and many citizens.
As he said, "we demand the government to take immediate measures to relieve the unemployed, while by participating in the process, we are sending the hopeful message that the policy that wants us, spectators, sheep ready to sacrifice themselves without saying a word will not came to pass" .
"We protest and demand work for everyone, with rights, as well as direct protection measures for the unemployed. It's time to hear the voice of the unemployed, the voice of workers, pensioners, youth. The 220 km of our route in eight days is a road of participation, protest, claim. We oppose the anti-people policy of the bourgeois governments yesterday and today, from those in charge of the economy", he added.
Regarding the course, Peletidis said that "it will be a big popular river where the  municipalities of Aigialeia, Xylokastro, Kiato, the Velo-Vocha, Corinth, Loutraki-Agioi Theodoroi Megara Elefsina, Aspropyrgos, Haidari, will meet to get to Athens in Syntagma square Sunday April 10th. "
During the course, he said, "gatherings, concerts, demonstrations and cultural events will take place in all cities where we spend the night."
In particular, attitudes and concentrations will be in Aegio, Akrata, to Xylokastro, Corinth, at Theodori, Megara, Elefsina and Haidari, while the participants in the course will spend the night in sports centers of the aforementioned cities.
On the back of the march will follow the Municipality of Patras vehicles for the rest of participants and luggage storage.
Also, every morning will depart from Patra buses to transport those wishing to participate in events taking place in cities from where the path and then will return to Patras passes.
On Sunday April 10 buses will depart for Athens to carry to  carry to the capital, those who want to take part in the rally, to be held in Constitution Square.