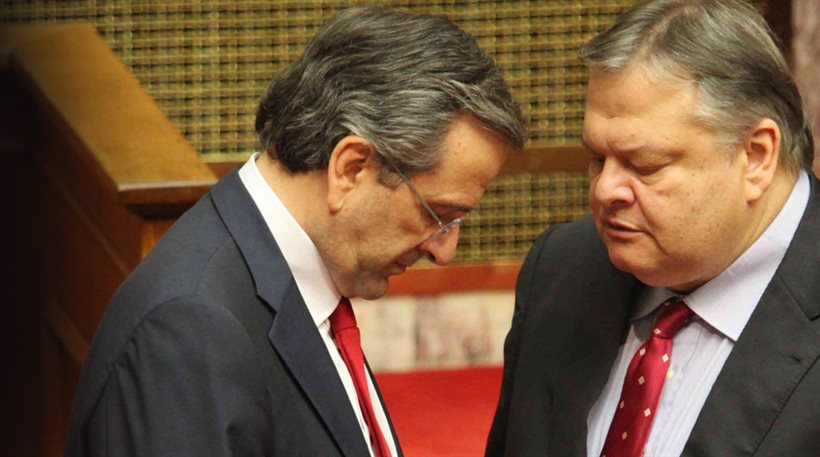 By Lefteris Yallouros – Athens
Greek Prime Minister Antonis Samaras and deputy premier, Evangelos Venizelos held a meeting to discuss the government's strategy ahead of the arrival of troika inspectors in Athens in July.
After a cabinet reshufle earlier this month, the coalition government has pledged to put right a series of so called "unfair" policies affecting those most hit by the economic crisis and many years of austerity.
Socialist PASOK leader E. Venizelos wants Greece to openly request the readjustment of several prerequisites set by the troika in the country's adjustment program. PASOK – backed ministers and deputy ministers will meet on Monday to discuss ways forward on this front.
The junior coalition partner's wish to see policies changed may cause rifts with New Democracy. Last week the party questioned the government's targets for sacking civil servants this year, suggesting that a better method for evaluating their performance should be created before more employees lose their jobs.
Administrative Reform Minister Kyriakos Mitsotakis and new Education Minister Andreas Loverdos disagreed over how many university administrative employees should be rehired after being placed in a labor reserve last year.
As PASOK gers up to question more government policies and reshape strategy on issues such as privatizations, social security and labor reform, the government's stability is bound to be tested.
Analysts point out the Prime Minister is keen on staying on the reform track as suggested by troika inspectors in order for fiscal targets to be met that he hopes will allow him to introduce tax cuts next year.