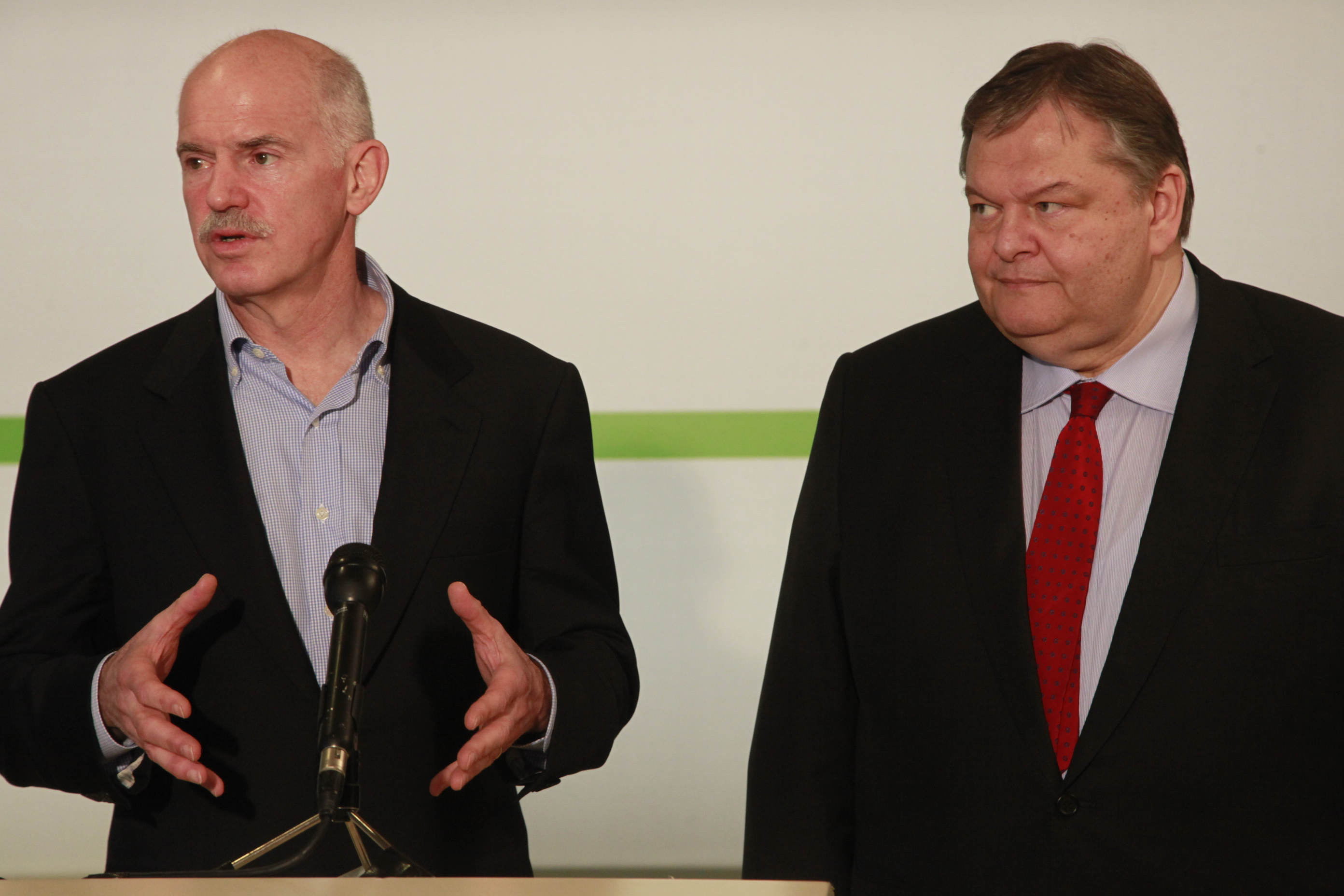 By Lefteris Yallouros – Athens
PASOK leader and deputy PM Evangelos Venizelos held an almost two – hour – long meeting with former Prime Minister George Papandrou on Thursday.
International affairs, the economy, progress in negotiations with the country's creditors over the bailout as well as PASOK issues were reportedly discussed.
Talking to the press following the meeting Venizelos described the discussion as "friendly" and "positive."
However, the statement issued by George Papandrou a while later hinted that the meeting was not as smooth as Venizelos had suggested. Efforts by Venizelos to unite the center left under a new 'Democratic Party' umbrella which may mean the end of PASOK – the socialist party previously led by George Papandreou and founded by his father, Andreas – seems to have been the main sticking point.
The former Prime Minister reveals in his statement that he 'repeated his objections and disagreements' over the establishment of the Democratic Party. Papandreou also takes a swipe at the coalition government, effectively criticizing the current administration for behaving erratically and without a plan something which had 'weakened the country'.
Papandreou maintains his PASOK government shouldered the responsibility for the crisis and carried the political cost of adjustment efforts, knowing that there was no alternative. This effort, Papandreou believes is not being defended by the current PASOK leadership.
A few months ago, Papandreou had said no to the short-lived "Elia" name for the coalition of PASOK with other groups of the center-left. Papandreou believes that the Democratic Party is a vehicle for Venizelos to erase both the Papandreou name and the old PASOK. That would be a historic development for the party which ruled the Greek political landscape for over 30 years.
The meeting between the two was called by Venizelos to supposedly help boost support for PASOK which is currently at an all-time low with the party divided and still suffering from the impact of the financial crisis and the changes it brought about in public opinion and voter preferences as anti-bailout parties of right and left made ground. Venizelos will also meet with former premier Costas Simitis on Friday to discuss the future of the party.
Evidently, PASOK's woes will continue for as long as the party remains divided and in search of a way back into political center-stage.