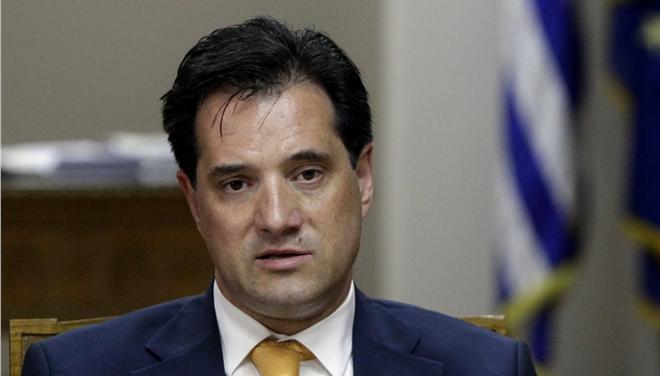 By Spiros Sideris – Athens
Conflict with PASOK executives brought the statement of parliamentary representative of the Greek Right ruling party New Democracy, Adonis Georgiadis (photo), who speaking in a morning television show accused PASOK that its objections to key issues are to blame, for the most part, for the failure to reach an agreement with the Troika.
The statement caused the reaction of PASOK MP Koutroumanis, who replied: "PASOK has supported the government during this period, but there are issues in which it cannot back down, such as the collective redundancies, the lokaout, the new payroll".
However, the parliamentary representative of the ND insisted: "The government has signed the Memorandum and is committed to change the trade union law. Mr. Vroutsis has tabled a complete law on trade unions and PASOK has rejected it".
Koutroumanis replied that this discussion does not affect the course of the country, and reacted to the position expressed by Georgiadis: "the lockout is fine".
Georgiadis made his comeback, asking "to which reform did PASOK say "yes" in the last six months", to receive the answer from Koutroumanis that PASOK has passed all the bills, with the necessary modifications.
Arrows against Mr. Georgiadis unleashed and Secretary of Communication of PASOK, Dimitris Karidis, who speaking on the radio station "To Vima", spoke of an obsession of the parliamentary representative of the ND with PASOK.
"Mr. Georgiadis has an obsession towards PASOK and shakes his finger towards the PASOK … It is unacceptable for the parliamentary representative to come out in the morning and act as the advocate of the Troika, and reproach us . That cannot be the government's policy, it is bad. These things are harmful to the negotiation and are a bad service to the country", Karidis stressed.