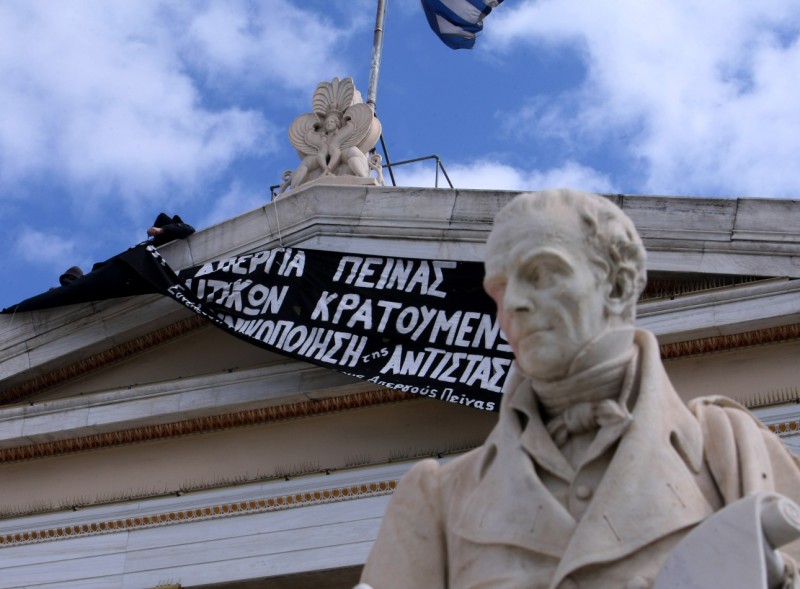 Athens, April 14, 2015/ Independent Balkan News Agency
By Spiros Sideris
The head of the Department of Education of New Democracy, Theodoros Fortsakis accuses the Greek Prime Minister for "apathy" towards the ongoing occupation in the Athens University after the letter-call for help of the Rectory of the institution to Alexis Tsipras and the party leaders. The government is unable to do the obvious, said in a statement PASOK.
In a statement issued Monday afternoon by the former dean of the University of Athens Mr. Fortsakis says: "The continued for 15 days occupation of the main building of the University of Athens has rendered it incapacitated and has turned the center of the capital in a den of lawlessness.
The Government is deaf to the university community cry for help
Its tolerance encourage squatters to continuously increase their demands. The responsibility lies solely with the Government, the Minister of Public Order Mr. Panousis, who remains idle citing Mr. Voutsis, the Minister for Education Mr. Baltas, who with his attacks against the Left devalues ​​the first public university in the country and to the Minister of Justice Mr. Paraskevopoulos, who hastens to meet the squatters' demands by releasing from prison terrorist murderers.
Prime Minister Mr. Tsipras watches apathetic.
Finally, mercy for the University and our education!".
PASOK: The government is unable to do the obvious
Announcement on the matter, after the call for help from the deanery, was also issued by PASOK's responsible for educational matters Evi Christofilopoulou. The announcement notes, among other things, that: "the government monitors, unable or refusing to do the obvious, bound by the obsessions of its ministers. The competent ministers clash, the integration of the Citizen Protection Ministry responsibilities continues to hover between the Ministries of Interior and Justice and the deanery of the University of Athens has been left at the mercy of anti-authoritarians.
Obviously for the government what comes first is protecting its privileged relations with the anti-authoritarians… None of the co-ministers feels the need to apply the law to restore the proper functioning of the university and to avoid further damage to the facilities that have immense historical and cultural value and are under occupation".
"Prime Minister Mr. Tsipras is solely responsible for this promiscuity and needs to intervene now, before it's too late!", concludes the announcement.